A Report on the Centrum Festival held in Ulft, Holland, in aid of
World Wide Smiles to raise Funds to Tour
to the tsunami-hit Sri Lanka
---
Centrum Festival report
by Shobhana "Shobi Dobi" Schwebke (USA)
(Editor of the Hospital Clown Newsletter hospitalclown.com)
With a Little Help from Our Friends:
Clowns from Clowns International (clownsinternational.com) participated in a fund-raising clown festival in Ulft, Holland to help send four clowns from World Wide Smiles to clown for the school children in Sri Lanka affected by the great tsunami tragedy. They are Clown Bluey, Clown Masjolie, Clown Conk and Ringmaster Ben. The trip is expensive so in order to cover the cost of transportation to the other side of the planet, World Wide Smiles asked for a little help from their friends, and there were plenty of friends – 20 clowns from Clowns International and the wonderful welcoming, friendly generous people of Ulft, Holland who hosted the festival.
My trip started in California, USA on our Labour Day holiday September 5, 2005. After an evening flight I met up with Clown Bluey and Toto (also from the USA) who met us at London Heathrow Airport, England and took us to his house in Marchwood, near Southampton. After a couple of days rest and several cream teas in the New Forest (I'm addicted to them) we set out on a seemingly endless drive early in the morning to London Stansted Airport on the North-East side of London. More clowns appeared at the airport – Clown Bobby, Dizzy Dez, Nangaz, Smilie, Tom Fun and the Rapide Brothers (Izzo and Malteser). So now there were ten of us flying through the night to Dusseldorf-Weeze, Germany, the closest airport to Ulft, Holland.
In Weeze we were picked up at 9.30 p.m. by Masjolie (Maria) and Ben Kemperman and taken to where we were being accommodated in Ulft, Holland. All the clowns were hosted by residents of Ulft. It was quite late and we all (at least PeeWee from Denmark who had already arrived, Nangaz and I who were billeted together) were pretty knackered [exhausted] (I'm learning real colloquial-slang English!) and went straight away to bed. Conk, Rico the Circus Clown, and Allyson who were travelling with Flo in her Van from England with a lot of our Clown heavy luggage didn't arrive until 2.00 a.m. in the morning as they missed their Channel ferry because of an accident on the M1 motorway in England. So now there were 16 of us.
"We stayed in a lovely home" Flo commented, "and their home was like our home. We could do as we liked. We had a lovely garden as well. Everyone was really nice and grateful. The whole town welcomed us."
And that was the way it was everywhere we went. People were so open to us. The town had not only arranged homes for us where we were given breakfast, but had arranged a place for us to eat our other meals and congregate and store our clown props and motley (costumes). This turned out to be the meeting house of the Sint Hubertus Ulft Organisation which among other things has its own brass band and shooting team, which made for several nights of great camaraderie. They were a wonderful group of chaps and chapettes (is that the proper way of saying a female chap?).
Friday was the big day for the schools. The clowns who didn't perform the school shows went to nursing homes. At the schools the clowns collected envelopes from the children. Before the festival Masjolie and family made up and delivered one thousand envelopes to all the school children to make donations to enable clowns to cheer up the children of Sri Lanka affected by the tsunami.
Conk explained "Through the school system the children were asked to do little jobs for one Euro — car washing or tidying up their bedrooms – or instead of having a drink or a biscuit, that money went into the envelopes. We anticipated one envelope – one Euro. At the end of the day when we counted the envelopes instead of one thousand Euros, we had 2,843 Euros! This meant that the children put more than one Euro in their envelopes and did many odd jobs for the sake of the tsunami children. That kind of generosity from children was amazing."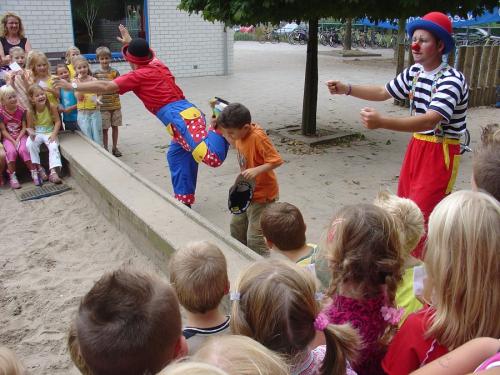 Izzo & Malteser (The Rapide Bros – U.K.) pick up school children's envelopes
at just one of many local Ulft Schools whose pupils
donated money to World Wide Smiles to Sri Lanka
On Saturday, Jester Coco (France), Klovnen Jo-Jo, (Denmark), Clown Helmi (Germany) and Antonio Lody (Holland), who had arrived on Thursday, all made their appearance completing the 20 clowns promised. There was an old unused iron-ware factory building in town (de Olde Hutten) which became our theatre. It made a very interesting backdrop to the slide show in the foyer of photos of World Wide Smiles tours to St Petersburg (Russia), Romania, Poland and Kosovo. Here the stage was set for a Children's Matinee Show and an evening Gala Show directed by Clown Bluey. Both were very well attended and received.
Sunday was the big day – the Centrum Festival Day. Ulft has had this festival every year with a different theme, this year being the 15th. When World Wide Smiles decided to go to Sri Lanka, Masjolie went to the town meeting and asked the town for their support. They did. It became the International Clowns Festival with all proceeds going to World Wide Smiles.
Everyone attended the Church Service on Sunday morning in motley and slap (costume and make-up) and everyone was well behaved. It was the first time the Catholic Church had clowns and they were a little nervous. Nangaz, Tom Thumb, Ben and Masjolie participated in the service.
Clowns take part in the Church Service
The church had a very favourable response and said they had not had such a crowd in a long time.
After the service as the people left, the clowns passed out red noses. This took longer then expected. The Sint Hubertus Ulft Band down the street got the wrong cue and started the Parade without the clowns! Bluey and Flo were still in the middle of putting on their stilts but still managed to catch the parade through a short cut, but I lost the parade. I managed to borrow a bike and then rode all over town asking "Hebt u mijn parade gezien? (Or something like that!) "Have you seen my parade?" As the band was taking the parade all over town through back alleys, (they forgot there would be road closures), it was really funny trying to find them!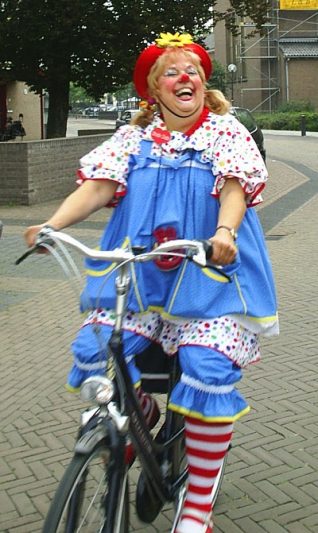 Shobi Dobi (USA) has fun on a borrowed Dutch-style
bicycle finding the Parade
There were six areas that clowns used during the festival. Four performance areas with small 20-30 minute shows each hour. One area was for circus skills workshops and one area had face-painting. Shobi Dobi, Peewee and Antonio Lody had the privilege of being the Mix and Mingle Al Fresco Clowns. I think Huggy Bear (Shobi's puppet) shook hands with everyone at the festival. He's still recuperating with a big smile on his face on my bed at home.
Toto (USA) did some of the show performances, but between shows, he mix and mingled. He comments, "During the mix and mingle time, I had so much fun just having conversations with little 3 year olds. They didn't speak a lick of English and I not a lick of Dutch, and we would just laugh and laugh. I would say 'Yah' and they would say 'Nah.' And I'd say 'Yah, Yah,' and they would say 'Nah Nah.' We'd go back and forth. Then I'd say 'Ya ya yah yah yahhhhh yay' in the kids sing-song teasing song. And they would copy me with 'Na, na, nah nah nahhh nan.' It was just sooo funny and I have no idea what the kids were saying, but they would just laugh and laugh and laugh. Their eyes would sparkle and that's what made it so special for me – that connection with the kids even though we had no words in each other's language."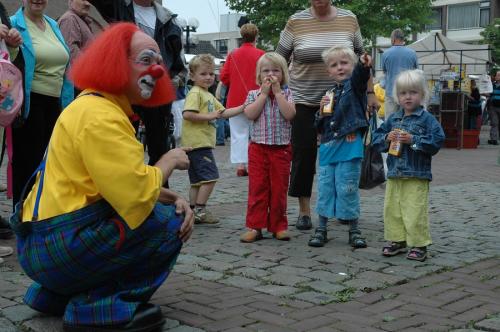 Toto (USA) makes new friends between performances
Toto continued "I was in full Auguste make-up and sometimes that can be intimidating to a 3 year old, but I didn't encounter that at all on that day. I didn't find any kids that were scared. There were some younger children of course that would not get anywhere near me, but even the 3 year olds in Ulft would run right up to me."
I (Shobi) took breaks from the Mix and Mingle and mingled on a bicycle. The Dutch bikes are somehow bigger and more comfortable. You get to sit straight up AND everyone is riding them. So often at festivals it has been my experience that I am clowning all the time and don't really get to see the town or where the people live or what they do. Well, I found two very nice ladies who loaned me their bikes alternately. So in costume I would take my breaks around town riding a bike and waving at everyone. It was just wonderful. Everyone was so generous and open to playing. It was amazing.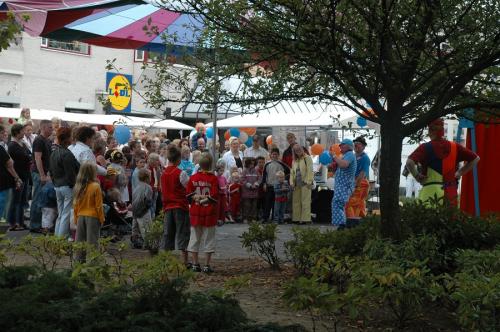 The whole of Ulft's central shopping area was packed
with people enjoying the various clown shows
The festival was not only a success for World Wide Smiles, but for the town of Ulft. There were merchants lining all the streets who said the turn-out was terrific. What helped in a big way was the appearance of a well-known popular TV personality- Piet Paulusma – who presents the Television weather forecast nationally from different parts of Holland. He came on Friday night and miraculously a huge crowd of people and children appeared to meet him. We clowns were all out in the main square entertaining Al Fresco when he arrived. His interviews with various clowns were televised and broadcast on national TV at 10 o'clock that night for 30 minutes – a great PR coup for the Festival. Ulft has never had a clown festival and for this little town to be televised on national TV was a big thing and no doubt the exposure brought many more people into the Centrum Festival on the Sunday.
From Conk (England): "The organization of the festival was so marvelous. And the clowns worked together so well. What happened the first day was amazing. We got enough money to pay for the airfare to Sri Lanka on the very first day of the festival due to the collections made by the school children of Ulft! What was so wonderful about the festival for me was the friendliness and the hospitality of the people. Everywhere we went we were welcomed. And the generosity of the people and the children was amazing. They just gave and gave for World Wide Smiles Squad."
From Bluey (New Zealand): "The Festival was a brilliant idea to raise funds for the Sri Lanka Tour. As this article goes to press, Masjolie reports that monies are still coming in from various sources and sponsors, and that so far over 7,500 Euros has been raised!"
From Conk, Clown Bluey, Masjolie and Ben Kemperman, Organisers of the Clowns Festival:
To all the clowns, friends, helpers, sponsors, the Centrum Festival Committee and all the residents and school children of Ulft. Herewith are the financial results of the International Clowns Festival, Ulft 9th – 11th September 2005:
| | | |
| --- | --- | --- |
| Income | Euros | Expenditure |
| School Children Collections | 2845.80 | All organisation costs were paid by local Sponsors! |
| Matinee & Gala Show Tickets | 1540.00 | |
| Bar Sales at Shows | 207.30 | |
| Church Service | 300.00 | |
| Centrumparty | 532.77 | |
| 1 Euro Actions | 694.90 | |
| Collecting Boxes in Shops | 962.94 | |
| Sponsoring Members Hanze (Shopkeepers) | 743.00 | |
| Sponsoring Donation: Chris Fincham, England | 735.73 | |
| NET TOTAL | 8462.44 | Euros! |
By giving your efforts at the International Clowns Festival, Ulft, World Wide Smiles received a much higher profile which has resulted in new sponsorship money coming in. Thank you again and don't forget: more than 8,000 children in Sri Lanka got to SMILE by your help! On behalf of World Wide Smiles, a big hug, goodbye and many thanks!
Masjolie (President World Wide Smiles Mission), Ben Kemperman, Conk and Clown Bluey
Co-Organisers of The International Clowns Festival, Ulft, Holland
Please see the photos on our Centrum Festival Photos page.