World Wide Smiles have made six trips to Romania up until 2016 and this page summarises those trips made between 2000-2016, with Reports starting with the latest and working back to the year 2000. See Menu sub pages on the left for a photo presentation of each Tour.
---
Smiles to Romania 2016
The 6th Romania Project of World Wide Smiles
World Wide Smiles Tour:  Taking Smiles to Romania 2016
by Bluey Brattle – Co-Director
Conk and I left UK on Thursday, September 22, travelling on the overnight Ferry from Harwich to the Hook of Holland on Friday 23rd.  Having a cabin allowed us to arrive fresh and rested for the 2 1/2 hr drive to our colleagues Maria (Clown Masjolie) and Ben's (our Ringmaster) house in Ulft, Holland where, on arrival, we immediately put on the motley and slap ready for a Press and Photo Call in the early afternoon. When this was finished, still in motley, we collected our 'Tour Bus', a Nissan 6 seater Van, generously sponsored by Andriessen Bestelrent B.V (www.bestelrent.nl). Then it was a matter of loading our new transport ready to leave on Saturday 24th. The 1500km drive took the usual two days, staying over for a night on the Austrian/Hungarian border.
We arrived in Romania late afternoon on Sunday 25th. For our first week we were kindly accommodated by the Smiles Foundation, a Christian Charity that works in the Bihor region of Romania full-time. Please see thesmilesfoundation.org to see what amazing projects they do. The Smiles Foundation had also arranged our first week's itinerary of 10 shows (2 per day), starting the next day. We had a fantastic week, helped a lot by sunny, hot days (34C on one day, but 28-30C was the norm, warm for Autumn). We were also grateful to be fed each day, which saved our tiny charity's minimal funds.
Itinerary – List of daily shows:
Monday: Tulsa School + Pomezeu School (both outside)
Tuesday: Tileagd – Church x 2 Shows
Wednesday: Salonta + Gepiu
Thursday: Oradea Eco Old Age People's Home + Salard Gypsy settlement (outside)
Friday: Oradea Homeless Converted Containers settlement + Rapa Gypsy Settlement (both outside).
After five hot and busy days, we were pleased to have Saturday as a rest day. The Las Vegas International Circus was in Oradea (they are a smart Hungarian outfit) and having visited Oradea for shopping, Conk chatted up the Box Office and finding we were clowns performing in the area, they promptly gave us 4 free matinee seats for that afternoon. The show was very good, all the acts virtually provided by the Vargas Family. Acts included very good exotic acts including a huge white lion, two white and two normal tigers; snakes, crocodiles, horses, llamas and a zebra. There were two clowns, one a typically South American style while the other was more European. He actually did a 'musical chairs' routine with children from the audience, never seen a child's game adapted for a circus ring before! Other acts included static trapeze, silks, hire wire, juggling. Even the young Grandson, aged about 10 had a classy juggling act.
On Sunday, we moved out of the Smiles Foundation and, travelling to Cetariu, met with Illy from the Mother Theresa Foundation. We were installed in a self-catering flat on the 4th floor of a small block of flats. There were 3 bedrooms, Maria and Ben had the double room with a double bed, whilst Conk and I were on mattresses on the floor, but it was clean and tidy, a new kitchen and bathroom, so it was ideal to use as a base.
At this point, the weather changed suddenly and dropped to 4C, and became grey and wet. Probably due to this, we all got colds to varying degrees. The weather unfortunately meant that initially we couldn't perform at gypsy camps/settlements as they are all outside on muddy areas, although we did manage to do one Show at the end of the week and Mix & Mingle at another. So instead, we performed at more schools, Community Halls and Old Age People's Homes.
Itinerary – List of daily shows:
Monday: Ulleacu De Mute School + Paleu School
Tuesday: Cetariu Community Hall + Rapa Old Age People's Home
Wednesday: Oradea School Kindergarten x 2 shows
Thursday: Sacueni Church x one Show. Unfortunately, the Mix & Mingle at a Gypsy settlement was cancelled because of the inclement weather.
Friday: Oradea International School x 2 Shows + Salard Gypsy settlement x 1 Show + Mix and Mingle at Rosiori Gypsy settlement.
Our last shows (we performed three + Mix and Mingle!) were on Friday, the 7th October. All in all, it was a very busy, tiring, but enjoyable and fulfilling Tour. 20 shows and some mix and mingle at Gypsy settlements when a show wasn't possible due to the weather. Approximately 1500 children and adults entertained and smiles and laughter given by the bucketful!
We must mention and thank the girls at the Mother Theresa Shop in Oradea who laundered our clown costumes as required each day – such a big help for all of us!
We started back to Holland on Saturday (8th October) morning, with an overnight stop in Germany, arriving back in Ulft on Sunday 9th in the early evening. At the end of every tour, everything has to be unpacked, and put away. In addition, Conk's and my props, costumes etc repacked in my car. The sponsored Van cleaned inside and outside, a chip in the windscreen repaired before it could be returned to our sponsors. Conk and I returned home to the UK on Tuesday, 11th October.
We would like to put on record our deepest thanks to our wonderful Sponsors, Andriessen Bestelrent B.V.; Kevin Hoy and staff at The Smiles Foundation; Illy and all the girls at the Mother Theresa Foundation Shop. Without their wonderful generosity and help, this Tour could not have taken place.
Tour Expenses:
| | | | | |
| --- | --- | --- | --- | --- |
| Expenses | Sterling £ | Euro | Romanian Ron | Euro Total |
| Ferry: UK-Holland and Return | 240.00 | | | 261.60 |
| Fuel | | 342.08 | 599.13 | 491.86 |
| Subsistence | | 284.30 | 337.02 | 358.01 |
| Vignets (& Return) – Austria & Hungary | | 45.60 | | 45.60 |
| Accommodation en-route: Hungary & Germany – B & B for 1 night each way | | 258.00 | | 258.00 |
| Transport: Van: Windscreen Repair and Cleaning Materials | | 80.00 | | 80.00 |
| TOTAL | | | | Euro 1495.07 |
SPONSORING: We are always in need of Sponsors. If any of our readers are able to offer financial help in any way to help us take more smiles to children where smiles are desperately needed, we would be delighted and grateful to hear from you.
Please see the photos on our Romania Photos 2016 page. If you click on an individual photo to enlarge it, then click on the arrow at the bottom of the photo, this will enable a slide show of all the photos to play.
Our contact addresses and telephone numbers can be found on our Homepage.
---
Smiles to Romania 2010
The 5th Romania Project of World Wide Smiles
4 August to 15 August 2010
In association with the Mother Theresa Foundation (Ulft, Netherlands), Maika Teresa (Romania), and The Smiles Foundation (U.K. & Romania).
Report written by Maria & Ben Kemperman (Holland)
A HOT Welcome!
Indeed it was hot, very hot in the August sun in Romania, more than 30+ degrees every day!
Warm also was the welcome and reception at the Maika (Mother Theresa) shop in Oradea.
Warm also, were the reactions and applause at every performance!
In spite of the school holidays the organisation was successful with a full programme.
Cathja (of the Mother Theresa Foundation) suggested to us an idea just before we left Ulft for Romania. The shows should, where possible, be of the following lengths: Short 30' – 1hr; Long 1 – 2 hr; Extra long 2hr 30'+!
The Programme also had some new locations to visit.
With a fully packed Fiat Dukato mini Bus (once again kindly and generously sponsored by Andriessen Bedrijfswagens in Terborg, Holland), we set off on the 1500 km journey, staying the first night at the Austrian/Hungarian border. The next afternoon we arrived at the Maika shop in Oradea, Romania.
A warm and welcome reception complete with a clown-dressed employee! Ily and Imi will be our tour managers for the next few days.
Our first action is to buy a huge garden umbrella on a stand. Despite the weather forecast on BBC Overseas for Romania being heavy rain, we all got very wet, but not of rain! It was bright, very hot, hot sunny weather all the way!
A small but big enough apartment in Oradea will be our home and base. It is on the 9th floor! A tiny lift had to go several times up and down to bring all our suitcases up. After a few days we were able to get all four of us with hand luggage pressed in the nearly 1 square metre Lift! We also found out, several times, what it means to go by the stairs whenever the lift broke down! But we had a nice view over Oradea from the 9th floor! Conk discovered a Bar-Restaurant just across the road which we will visit a few times in the following evenings to relax, and fill our tummies and do the social balloonwork.
Friday August 6: First show in the morning in the open at a riverside in Oradea called Cartierul Valente-Blocul Nato.
It was a very tough and dilapidated area of the town and the promised bodyguards were waiting for us and accompanied us to the designated performing area. A green, but very rough spot beside a river. There being no power, our generator ran our sound and music. A planned long show of two hours is reduced to one and a half hours – it seems to be long enough under the burning sun. Many of the children dive into the river to cool off during the show, then return again – a luxury we could not afford! A trail of empty goody bags shows us the way out!
Lunch is provided at the Maika shop. The afternoon show is in the children's play park of Oradea called Parcul de copii-Oraselul copiilor Oradea. Because of a sudden thunderstorm when we arrived to set up, we had to decide to do the show inside a building in the park which was a pity as we had a smaller audience than anticipated.
In the evening, in the village of Paleu, we were invited for dinner at a restaurant by a lake-side. Our waitress was Annemarie, daughter of Ily, who works there – a nice surprise.
Saturday 7th: Saturday morning, we are fully dressed and made-up, meeting in the Maika shop before leaving for Salard. It is again outside in the blazing sun: at the front of the well known green- painted social houses for a Roma settlement, they had freshly mowed a spot for us using old-fashioned scythes! During the show more and more public showed up. We end up with more than the promised 100 in the audience.
That afternoon, we do a short visit to an Old People's Home, Casa de batrani, which is in Salard.
Warm feelings seeing the reactions and responses: Conk's magic – Bluey's balloons –Masjolie's marionette puppet.
Now on to Rosiori: a large open field next to the Romany social houses in front of a big tent for a baptising ceremony the following day. The whole Roma community appears. Some small babies like the breastfeeding more than the World Wide Smiles Show! Also the shoe-making production had to go on! Again, it is hot, hot, hot. Changing shirts is necessary!
Sunday 8th: Sunday morning, after the traditional cup of tea or coffee, room-served by Bluey, it's make-up time again at the kitchen table. Then via the Maika shop to Saniob, which is also a Roma settlement, in social houses sponsored by Mother Theresa. After the whistle of Ringmaster Ben, the clowns Bluey, Conk and Masjolie march in. After the introduction: Bluey and Conk from England, Masjolie from Holland, specially here this morning for you with the World Wide Smiles Show. Conk, are you ready? Yes, he is almost. Maestro – music! And off we go. It is great to see the interactions with the children and grown-ups. A tourist stopped by the roadside to take some pictures.
Next: Sannicolau de Munte. At the foot of a steep hill we set up – almost an amphitheatre! Two men tried to manage the crowd. A drunken man was kicked out. The boy in the boxing act with Masjolie takes it really seriously and has to be told that it is a friendly game – Masjolie has to do more shows!
Unpacking and packing goes smoothly thanks also to the helping hands of our Maika friends. The Roma people want to show us their homes, but a short visit of the "munte" is not possible as we have to go on, another show.
After a coffee break on the road, we proceed to another unknown place for us, Diosig.
We arrive at an immense big open field. In the centre, we parked the van and with an extra lead extension we were just able to reach a power-plug in the nearest house. The audience grows and grows up to a record ever met in Romania! Marvellous. Also here are some strong men to help us to keep the arena clear and make it bigger and bigger to allow all the kids to have a good view.
Very impressed, we drove back to Oradea. The next surprise is a nice meal on a terrace of a restaurant in the "modern" city of Baile-Felix. The chef is the son-in-law of Illy, that's why.
Back late, hard to find a good parking-spot behind the high-rise flats; backwards-forwards-backwards – ho ho – okay! .Straight to bed as we are all exhausted.
Monday 9th: Monday morning, 9.30am as usual back in the Maika-shop. Today, we entertain at three small children's homes, each with about 12 children, in the Oradea area. First Casa Ghiocei, which houses very badly handicapped little children.
A blond supervisor is present and is as curious as us about the reactions of the children.
Careful, not too loud and improvisation are the ingredients of our small show.
Handpuppet, short magic and of course balloons make the group really very enthusiastic.
Afterwards, we are given a small tour which shows us a well equipped and modern home with a nice outdoor play area.
The next home is Casa Pestisor. Waiting behind a safe, closed gate in a corner of the outside courtyard, were a crowd of children, a little bit older than the first Home. Very enthusiastic, jumping and dancing to the music of Bluey's banjo and the clown's singing. Coffee with cake was served to us as a thank-you and we were proudly shown around the home. The third Home was Casa Curcubeu, where we performed outside under the verandah, and the balloons fly away in all directions, whilst the neighbours enjoyed a free show. Very clever interactions between the enthusiastic children and the clowns. Also here, as everywhere else, the children received the famous goody bags at the end of the performance, a gift of the Maika Foundation.
The last full show will be at the Centrul plasament nr. 2 in Oradea, a big special home for children, mostly, we found out, those children who had been abused. Outside, we find a spot in the shade of trees to perform. The enthusiasm is hard to measure. But we gave everything and did a full show.
After a coffee break at the maika-shop we were asked to do a last visit: with a big sack of soft toys and goody bags we went to Bihar, the very first social houses the Maika Foundation built for a Roma settlement.
We perform some street 'meet and greet' and give out the goody bags and sweets before returning home.
And so, we ended the first part of our 2010 tour, this part of our itinerary organised by the Mother Theresa Foundation, Oradea, Romania.
After a thank you goodbye meal in the Maika shop, we went to our apartment for a shower and packing our props, motley & clothes because tomorrow, we start the second part of our Tour: the programme organised by the Smiles Foundation (no relation to WWS).
Tuesday 10th: Tuesday morning: lucky us the lift is working! With a big laundry bag we go for a last cup of coffee and goodbye to our friends at the Maika Shop. Thank you for the full programme, good care and helping hands. Moeltsoemien froemos!
Then we travel up to Cihei, the base of the Smiles Foundation. We arrived 10.45am to find they are waiting for us: the first show should be at 11.00am! The communication to Bluey's netbook hasn't arrived in time before we left for the tour. Luckily, it is a local location and we delay the performance until 12.00pm. A very quick change and make-up, then travel to the nearby village: to a little church. We unload and set-up and managed to start the show at 12.00pm.
We have an afternoon off! Bliss! During this time, we met some guests from the U.K. and the USA who are visiting the Smiles Foundation projects and do some volunteer work for the Foundation.
Together with the Smile's Founder, Kevin Hoy, we discuss the programme for the next 2 days. Four shows – two a day.
Wednesday 11th: Wednesday morning we drove to Tileagd. The show goes in the Smiles Foundation's big American-style church. Also in the complex is the Foundation's school, library and health centre. All well equipped and very modern. Tileagd was also originally a Roma village and most of our audiences will be Roma children.
The well-attended show starts and soon there is confetti all over the place and the bubbles of the bubbles machine goes up and down over the beautiful dressed Roma children and children of the summer school. The show is a big hit.
After a packed lunch, we take a hilly road full of holes, beautiful views, but a long drive to a very small settlement called Cuiesd.
A spot next to a schoolyard is perfect because of shade! There is no power, so our generator comes into its own again! Our guide, who comes from the village, has previously told the villagers the clowns are coming, but they do not believe him! Nobody is there. While we set up, he drives into the village and rounds them up and supplies the audience by car! Obviously there is little or no entertainment in this village because of the very enthusiastic participation of the villagers and children.
Back in Cihei, after dinner, volunteers are invited to help unload a big articulated container lorry which had just arrived from Ireland. We all muck in with them until it gets dark and the mozzies start to bite! The container contains masses of various aid stuff including clothes, beds, mattresses, farm machinery and toys.
The next morning, a big mobile crane appears. The container inside the truck is pulled out – it stays in Cihei to be converted to a house unit!
Thursday 12th: Thursday already. We are expected in Gepiu, a small children's centre. No bubbles because of the tiled floor. Big applause also from some of the Smiles Foundation overseas volunteers who have come to watch the show and gave us some help loading and unloading and also had nice words for our work.
Madaras, a little church building will be the last location of our Romania tour. First we had to create a spot for the curtains and props- there wasn't much room in front of the baptising pool! Before the Ringmaster's whistle, a moment of prayer by the resident Vicar: okay, then we went on full speed! Today no halleluja …. but… no no ja ja (of course in Romanian). It's getting hot again. Doors are open and audience from the street are showing up and coming in. After the show and after packing the van, we were invited to taste a lovely water melon. Many thanks!
That was it. Tomorrow, the start of the inevitable 1500 km back to the west – Holland and then the UK for Bluey and Conk.
It was a tough tour, the daily hot temperatures making it particularly gruelling. We all put in a lot of energy, but we got a lot back as well.
Not overcome with heat, but received it and hopefully radiated it!
World Wide Smiles arrived back in Holland safely on Saturday 14th August.
Our grateful thanks to The Mother Theresa Foundation (Ulft, Holland), The Maica Foundation (Oradea, Romania), the Smiles Foundation (Leeds, UK and Cihei, Romania) and Andriessen Bedrijfswagens (Terborg, Holland – andriessen.info).
Please see the photos on our Romania Photos 2010 page.
---
Smiles to Romania 2007
Report by Ben Kemperman, Clown Bluey & Conk the Clown
Conk and Clown Bluey travelled overnight by car and by Ferry from Harwich to Holland and arrived at the World Wide Smiles Headquarters in Ulft on Thursday 18th October, where they joined fellow colleagues Masjolie and Ben in preparing for the long and arduous drive to Romania.
Having picked up our VW 3.5 (6-seater) Van from our wonderful transport sponsors, The Car Centre Andriessen (Andriessen Bedrijfswagens), in Terborg, Holland – andriessen.info, and having fully loaded the van with the set, curtains, sound, lights (including our generator for emergency power), props, costumes and personal baggage, we left on the long journey on Saturday 20th October at 7.20 a.m., travelling across Germany and Austria and into Hungary.
After an uneventful journey (Ben, Bluey and Conk taking 2-hour turns to drive and stopping overnight at a reasonably cheap hotel on the Austrian / Hungary Border), and having crossed two time zones, we arrived in Romania on Sunday 21st October, 2007, two hours ahead of British Summer Time. We drove to an apartment owned by the Mother Therese Foundation in Cetariu, a basic two-bedroom 3rd floor flat with lounge, kitchen and bathroom. This would be our "base" for the whole tour. Our initial plans to include performances in Moldavia were not to be because of administration difficulties, and so we found that our whole itinerary had been planned around the region of Bihor by our Mother Therese representative Illy, who is in charge of the Maica Therese Shop in Oradea and also is responsible for all the Mother Therese Social Housing projects for the very needy and the poor, including the Gypsy people.
Monday 22 October
Our first show was very conveniently in Cetariu just a few yards from the apartment – a Kindergarten with 20 children, so it took no time to unload our stage set into a small room with double doors that opened up into another room giving us and the children much-needed space! After the show, the children received gifts of chocolate bars.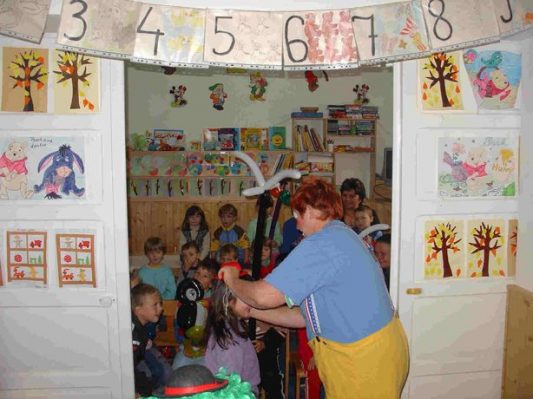 Masjolie entertains in the small Cetariu Kindergarten. We used two rooms
with dividing doors as neither room was big enough!
Lunch was back in the apartment and consisted of chicken soup (which became a staple of our diet, the kitchen being very basic with two hot rings and a microwave – and a free supply of soup from the Maica Therese Shop!).
In the afternoon, we performed at a school in Oradea (which was a very bumpy ride half an hour's drive from Cetariu) where we were supposed to have a mixed audience of over a hundred children consisting of both children with learning difficulties and those without learning difficulties. However, only about 40 children attended the show. We found out afterwards that there is still a lot of resistance from parents who do not want their children to mix with children with learning difficulties. Some Romanian people still have an uneducated attitude towards children with learning difficulties. Despite this, the children who were present thoroughly enjoyed the show and even those children with learning difficulties had a happy experience and at times were incorporated into the performance .
After packing up, we drove to the Maica Therese Shop which is centrally positioned in Oradea and had fun with children who were in the shop and also the staff who were always delighted to see us. As we stayed in motley most days from morning to night, this became a regular feature of our day. We even did some shopping in the shop – some of the prices for clothing are ridiculously cheap by our standards!
Tuesday 23 October
10.00 a.m. was the time scheduled for our first show in Sisterea, one of several villages around Cetariu. This was to be in the community hall, but it was too cold and we performed in the school instead. This was a mixed audience of 65 primary school and older children. The school was still in poor state with very old loose wooden floor tiles and a wood-burning "tiled" burner for heating.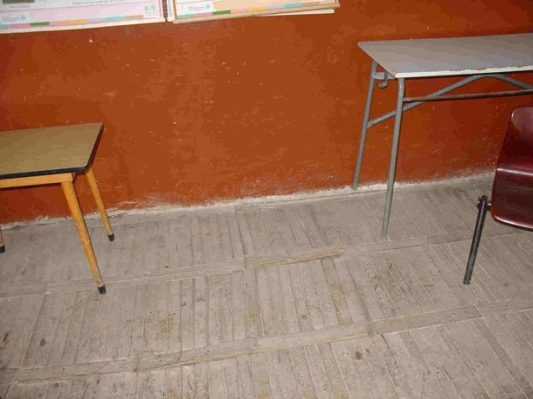 The Sisterea School floors were very old and in some places
had loose wooden floor tiles.
The performance went very well. Mostly for the Kinder and Prima age children, we presented a one hour show, whilst for older groups we would perform an hour and a half show. We also mixed our programme a little, in order not to become stale, substituting different routines. We took the opportunity to try out some new routines as well. Bluey introduced a new balloon puppet idea and Conk also used a puppet during his magic slot for younger children.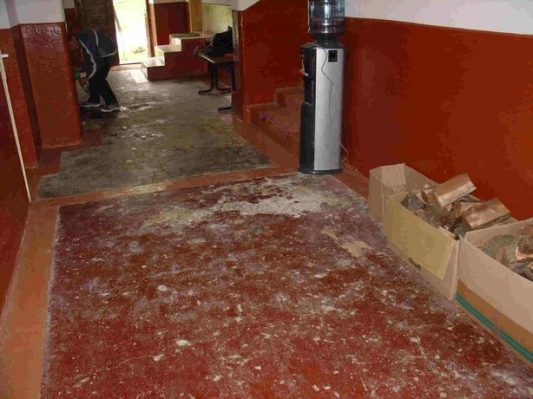 Hallway in Sisterea School: note boxes of logs on the right for the
wood burners used to heat each classroom.
At this venue, we did have the misfortune of getting the van bogged down and stuck in very soft mud and needed assistance from some burly staff and pupils to get out again before we loaded our equipment! Generally, we found the roads to be in very poor repair, despite a reported 330 Million Euro being pumped into Romania for roads from the EEC in 2007 alone!
"Chicken Soup" for lunch back at the apartment!
Then on to Oradea for the second show at 3.00 p.m. at a large refurbished and well-equipped school "Number 45". Here we performed for 100 infants. We noticed that they had just been awoken from their afternoon "nap"- they have fold-up beds that pull out from the wall which fold away for normal school time – something we noticed in a lot of schools – a type of "day care" that seems to be in operation in Kindergarten schools.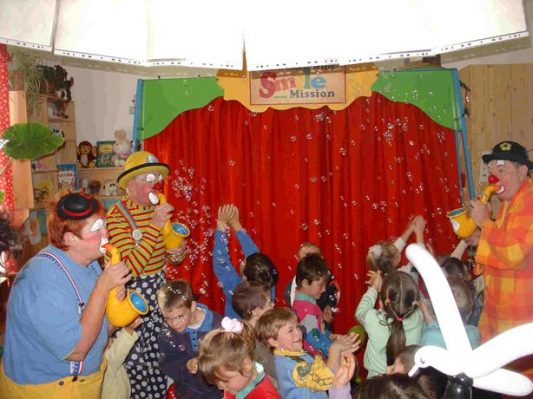 Masjolie, Bluey & Conk enthral the children with Bubbles!
As already mentioned, most days, we returned to the Maica Therese Shop in full motley, another reason being that we used the opportunity to have a briefing with Illy each day to discuss the Programme for the following day. We also occasionally took the opportunity to "sight-see"around the city – we looked at a brand new huge Park for children which included an open-air performance area with stage and seating. All ages of children were catered for in different areas of the park, including a skate-boarding area for older children. Oradea is a very large city holding several million inhabitants.
Wednesday 24 October
Our first show is at 10.00 a.m. in Uileac near Cetariu – it is another school we have visited on previous tours. 40 children are entertained here, and again we found the school has been renovated to quite a high standard.
Immediately after this show, we had to move directly to another village nearby called Saldabagiu where we entertained infant children together with other children from the village who normally go to school in Oradea. Teachers told us they have a problem in that parents think the schools in the city are "better" because they are bigger and have larger classes and don't realise their children would be better off with smaller classes. However, the parents were very appreciative of our coming to their village, and heaped plates and plates of assorted cakes on to us!!!
On the way back, we stopped to meet and greet at a Social Housing project near Biharia funded by the Mother Therese Foundation. The newly-built basic 2-room houses are mainly inhabited by Gypsy families and access was by extremely muddy unmade paths – but all the inhabitants were pleased to see us and the children were very happy to receive balloon animals from Bluey whilst Conk and Masjolie clowned around – the dreary setting was not helped by a drizzly rain – one of the few days it rained on us.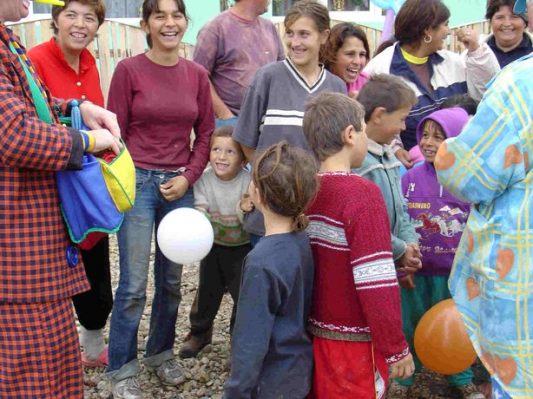 Conk and Bluey keep the Gypsies near Biharia laughing!
We returned to the Oradea shop for the next day's briefing before cleaning up and having dinner in a local restaurant. Illy's daughter, Ann-Marie, who also acted as an interpreter for us and who also works for the Maica Therese Foundation Shop, has a boyfriend who works at this restaurant as a Chef, so a good meal was had by all – and as usual Conk and Bluey entertained with pocket magic and balloons!
Thursday 25 October
Up very early on this day to make-up – we leave at 9.00 a.m. for a 40 km drive to Siniob where we perform at a very old and unfurbished community hall. Conk shot some good video of all the 100 schoolchildren walking in a line along the muddy road from the school to the hall. It was so dark we used our portable lighting rig for the first time with great success, but didn't need the generator. Although the hall was quite large, the stage proscenium itself was very narrow and we could only just squeeze our set in!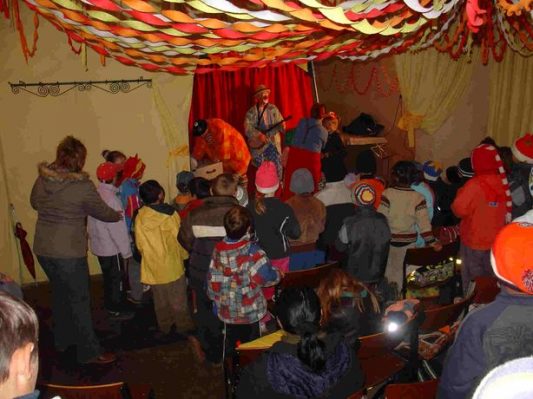 Our portable lights saved the day in the dark old Siniob Hall!
Note the narrow stage proscenium arch entrance!
Our second show was in the same village at the Kindergarten School, whose 30 children were waiting for us already (it was too cold for them to attend the first show in the hall), so we opted not to put up the set for this show as the room was quite small and we could use a room off the main room for entrances and exits and start the show without too much delay.
On the way back, we stopped to meet and greet at another Gypsy Social Housing project – however, it was so muddy, that we stayed on the actual road and all the inhabitants came on to the road to be entertained! Despite the appalling conditions underfoot, many of the children were barefoot and very, very dirty overall!
In the evening, we had been invited to Dinner by Kevin Hoy, Founder and Chief Executive of The Smiles Foundation (thesmilesfoundation.org) (not related to World Wide Smiles), whose Centre is located in Cihei. They are a charity registered in Leeds, UK, which is involved in many projects in the area around Oradea and nearby Tileagd. It was a very pleasant evening and good contacts were made. We also agreed to perform a show for them on Sunday 28th at their new community school in Tileagd as we had no programme scheduled on that day.
Friday 26 October
A very early start again as our first show is scheduled for 9.15 a.m. at the same school "Number 45" we were at in Oradea on Tuesday afternoon. This time we were performing for another set of 100 infants, but in a large room on the ground floor which also had the "fold-a-way"beds in the walls.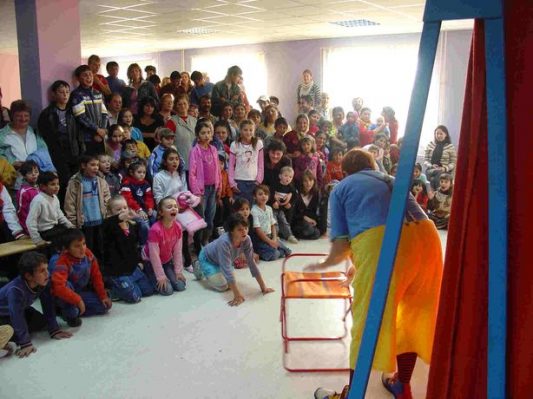 Conk performs at the beautifully refurbished school No, 45. Note the
orange cupboards along the back wall – each one is an individual
pull-down bed for the children.
We lunched at the Shop (hurray – no chicken soup!) but lovely hot rolls!
A long drive meant that a scheduled 12.00 p.m. show didn't start until 12.30 p.m. at our next destination, a school and orphanage combination in Popesti, to a group of 200 children. It seems Romania no longer have "orphanages"- such were the concerns of the EEC over the state of their orphanages, the Romanian Government closed them all, or simply renamed them as "schools"- hence there is no longer an orphanage problem……!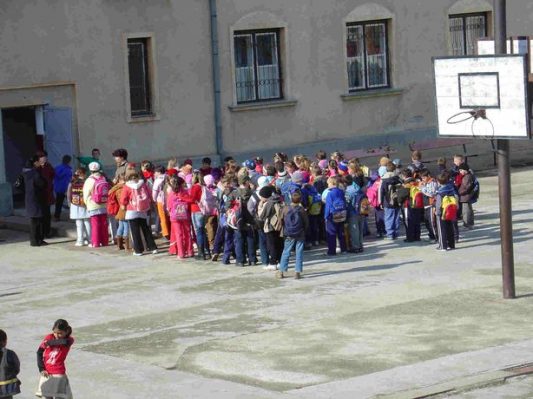 Children queue for the Popesti Show
On the way back, we stopped at an Old Peoples Home where we mixed and mingled and Conk and Masjolie had fun with an old lady and a large balloon! Old people are not very well looked after in Romania as a general rule, and we found this "home", despite the obvious love and concern of the carer's, very basic, unkempt and a little smelly.
Saturday 27 October
After our usual early breakfast and make-up routine, we left the apartment at 9.00 a.m. and remember this morning particularly for the van being stopped by local villager's cows. Most houses seemed to have one cow. One man using the sound of a large bull whip to call the cows which come out of their various back yards to join him on walking to wherever they grazed each day. Their behaviour were more like pet dogs than cattle!
The first show was in a home and school for street children (not an "orphanage" you notice) and we performed in the Dining Room. They did have an outside stage at the end of a sports field and the weather was quite sunny, but unfortunately the roof over the stage area was too low for our set. The ages ranged from 8 to 20 but they were all extremely well-behaved and seemed to enjoy the show immensely. They were also extremely helpful in helping to lug the set and props in and out of the venue from and to the van – much appreciated by us clowns tired by the exertions of the show and constant travelling and loading and unloading for each show!
Lunch at the Oradea shop – again no chicken soup – hurray!
In the afternoon we had a long 100 km drive east to Remeti, through the mountains. Beautiful views of steep cliffs and valleys all glowing in autumn reds and golds. The venue was a home for 40 mentally handicapped children of various ages up to 21. A slight administrative hiccup was encountered here as they had no knowledge of our coming – it transpired that the Director of the Home was on holiday and had omitted to pass on the information of our coming to her Deputy. Some frantic 'phone calls rectified the situation, and we were given permission to continue with the performance. However, no room large enough was available, but the weather being beautifully sunny and still, we performed outside. We built the set in front of the Home's steep and wide entrance steps which our audience used as seating. A Good show, but one or two times we had to hold the set framework when the breeze decided to gust!!! The children were very good and loved the music and being involved and taking part in the show, and where necessary, the Carer's were utilised in the show as well!.
On the way back, near the Home, we visited a huge dam and lake used for hydro-electricity production – there were wonderful views over the Dam and the lake it had created. There are many holiday homes and chalets in this area – apparently used by Oradea's residents for holidays.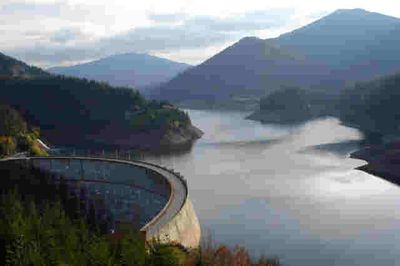 The Dam in the mountains near Remeti
Sunday 28 October
Bliss – change of clocks back to winter time, so we have an extra hour in bed!! Today we have the morning free and lazed around.
In the afternoon, we arranged to meet Kevin Hoy, the Founder and Chief Executive of The Smiles Foundation, on the Oradea – Tileagd road and he showed us the way to their new Project, a brand new Community School in Tileagd. The School itself is finished and children are being taught, whilst an Optical Eye Centre is also open. A huge Gymnasium/ Sports Hall is under construction and further projects on this site include a Medical Centre and a Church.
Our performance of one and a half hours took place for about 80 children plus many parents in the Computer and Library Room (and also temporary Church Service Room) as this is a non denomination Christian Charity. Here we had a fantastic translator in Maria who is the Project Manager for The Smiles Foundation. The performance was very successful with much laughter.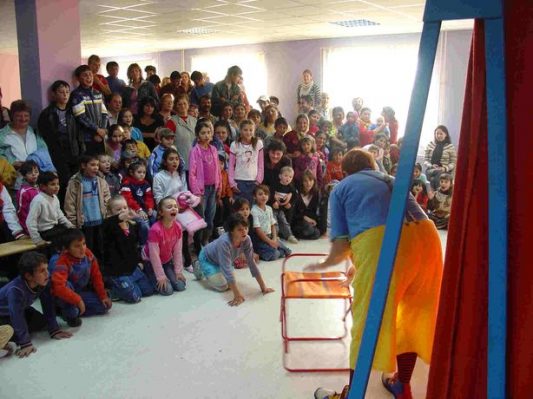 Masjolie entertains in the Tileagd Community School Library/Computer Room
After the show, Kevin Hoy took us back to their main Centre in Cihei (outside Oradea) to have much-needed showers as we have been without water for two days (a problem generally in the village of Cetariu – we believed construction work on new houses nearby had damaged the water mains – the problem persisted even up to the time the tour finished). Future plans for the Cihei Centre site include a Nursing Home and a Disabled Centre. Please see the Foundation's website thesmilesfoundation.org for further information.
In the evening, Kevin generously took us all for a meal in a nearby restaurant and a fun-filled evening with balloons from Bluey and pocket magic from Conk enthralled all the patrons!
Monday 29 October
This morning at 10.00 a.m. we revisited an old favourite, the community hall at the village of Salard, where we originally saw our first gypsy settlement some years before and where Mother Therese's first Social House Project began in 2002.
We fully expected to use our lights and generator at the Community Hall, but again we were pleasantly surprised: the Hall has been completely renovated with new wooden flooring, new stage, new dressing room (with carpet!!) and new audience seating. We are amazed!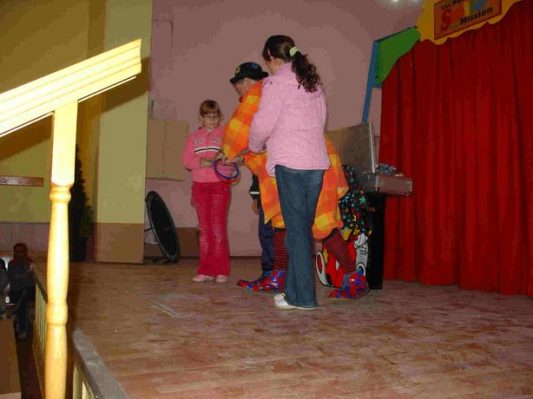 Conk performs with magic on the newly-refurbished Salard Community
Hall stage. Note the new flooring and painted walls.
100 children with some parents were in attendance: village children and Gypsy children from the above-mentioned Social Housing project. A good show and extra pleasing to perform on a real stage in comfortable surroundings. Our hour long show quickly extended into an hour and a half show which was enjoyed by all of us. At the end gifts of a toy and chocolate bars were given out to all the children from the Mother Therese Foundation.
After packing up and loading the Van, we stopped at the Filadelfia Old Age People's Home, much to their delight. Bluey played Banjo and made balloons whilst Conk danced with the lady residents and performed with his dog puppet and Masjolie entertained with bubbles and her walking puppet animal. This was a nice home, sponsored by a Dutch Company, and the Home also provide meals for old people in the village. It also had additional rooms where people could be accommodated for the night. The first Old Age people's Home we visited on Friday had been very basic in comparison.
Bluey & Conk entertain the old folk in the Filadelfia Home for Old People
On the way back, we visited another Gypsy settlement near Rosiori, which currently is in it's original terrible state. The families still living in home-made huts amid thick mud and rubbish alongside a stagnant drainage pond with no sanitation or clean water. Conk, Bluey and Masjolie played with the Gypsy children on what little grass area they could find, mainly using bubbles and physical clowning. Many of the children were wearing very little in the cold and wet and some had nothing on their feet in the thick cold mud.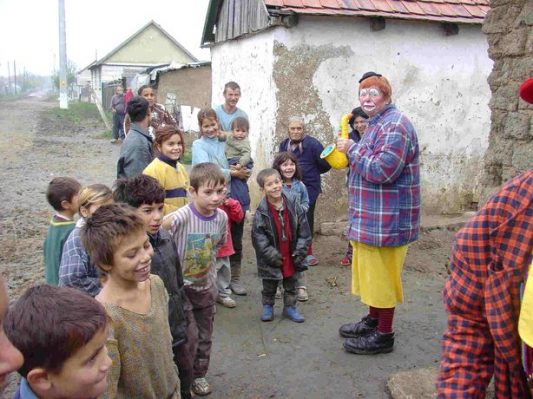 Masjolie entertains children and adults by their home-made 'houses'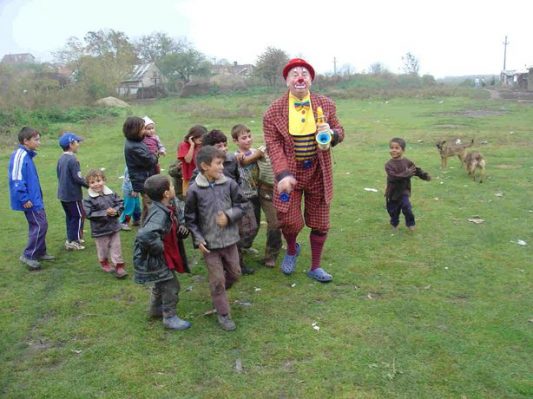 Conk leads an impromptu 'Conga' at the Rosiori Gypsy settlement
On the opposite side of the road to the Gypsy's settlement, we could see the latest Mother Therese Social Housing Project – new basic two-roomed houses where these gypsy families will eventually be rehoused and where a communal shower and water premises will also be constructed. From what we understand from Illy, the Gypsies sign a type of contract and that they must keep the new houses clean and that if they fail to do so, they can be evicted. We do not know if they pay a nominal rent or receive the benefit of using the houses for free on a "loan"basis from the Mother Therese Foundation.
We return to our apartment in Cetariu and find we still do not have water, so have to use bottled water for washing as best as we can and for tea/coffee!
Tuesday 30 October
Our Programme for Tuesday did not materialise due to permissions not being able to be obtained in time to perform and so we made the decision to leave a day early to start on the long journey back to Holland. After thoroughly cleaning the flat as best we could, we returned to the Maica Therese Shop in Oradea for the last time to say farewell to all our friends and Bluey presented a bouquet of balloon flowers to Illy from us all in appreciation of her hard work for the Tour.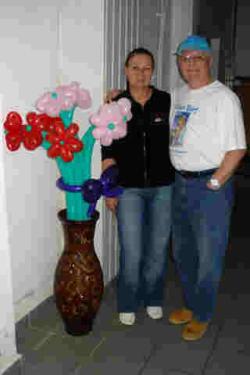 Illy from the Maica Therese Foundation, our Tour Organiser and
co-translator, receives a bouquet of balloon flowers
from Clown Bluey on behalf of World Wide Smiles
Then we started the long two-day drive back to Holland. We stopped overnight at the same Hotel on the Austrian/Hungarian Border. On the way back, Conk was stopped in Hungary by Hungarian Border Police (documents check) whilst Bluey was pulled over by German Police on the autobahn for a Licence check. Otherwise, apart from being delayed with numerous road works and heavy traffic, we arrived safely in Ulft after a 21 hour drive from Romania via Hungary, Austria, Germany and Holland.. Conk & Bluey continuing their travel two days later via car and Ferry for a further 9 hours (after helping to clean the van and return it to our Sponsors, The Car Centre Andriessen in Terborg).
FACTS AND FIGURES
Show Programmes:
Ringmaster for All Shows – Ben Kemperman
Entrees Used:
Conk: Dressing Act; Magic Act; Tightrope Act.
Masjolie: Trampoline Act; Boxing Act; Barber Act.
Clown Bluey: Balloon Act; Saw & Shorts Act; Musical Accompanist banjo & saxophone.
Conk & Clown Bluey: You Can't Play Here Act; Tippy Stool Act; The Dummy Act ; The Giggle Act
Masjolie & Clown Bluey: The Red Nose Act.
Masjolie, Clown Bluey & Conk: Parade In / Parade Out; The Band Act; Birds & Bubbles Act.
Ben: Ringmaster: Birds & Bubbles Act
Mix and Mingle Items Used:
Masjolie: Puppet; Bubble Saxophone, Balloons; kazoo
Conk: Puppet; bubble saxophone; pocket magic; kazoo
Clown Bluey: Modelling balloons; banjo; bubble saxophone
Show Entrees taken but not used:
The Dentist
The Whipcracker
The Busy Bee
Old MacDonald
Thanks:
World Wide Smiles would like to thank all those people who made this Tour to take SMILES to the children of the Bihor region of Romania.
In particular, our Sponsors:
The Mother Therese Foundation, Ulft, Holland for their Administration and Support
The Car Centre Andriessen (Andriessen Bedrijfswagens),Terborg, Holland – andriessen.info for sponsorship of the VW Van
The Maica Therese Shop and Staff, Oradea: For their support, tea, coffee and cakes!!
And, on a Personal Note:
Illy and Katja: For organising the Programme; Anne Marie and Illy acting as Translators
Kevin Hoy and The Smiles Foundation: For Dinner and much-needed Showers!
Statistics of the World Wide Smiles Tour to Romania 2007
Number of Children entertained with Shows (not including Mix and Mingle visits to three Social Housing Projects and the two Old People's Homes: 1100
Number of Shows: 14
Number of Social Housing Visits & Entertainment: 3
Number of Old Age Peoples Homes Visits & Entertainment: 2
Number of Smiles: Lots and Lots and Lots and Lots and Lots and Lots and Lots ……….
Total Number of km/miles driven from Ulft – Romania – Ulft: 4003 km (approximately 2669 miles)
Please see the photos on our Romania Photos 2007 page.
2007 Tour Report End
---
Smiles to Romania: October 2003
by Clown Bluey
David "Conk the Clown" Vaughan and I flew from Birmingham, England, to Amsterdam in Holland where we were picked up by fellow World Wide Smiles members Ben and Maria "Masjolie" Kemperman. After a day in their charming house in Ulft, where we prepared for the long trip and agreed on the show programmes, we loaded up their van with the small proscenium arch, curtains and all our stage and personal gear and set off on the first part of our journey. Taking turns at driving, we drove 1500 km for fifteen hours through Germany and Austria and crossed into Hungary where we stayed at a small hotel just across the Austrian/Hungary border. As it was my 60th Birthday, we had a celebratory evening dinner at a nearby restaurant which turned out to be a very nice evening meal indeed! The oxtail soup turned out to be more oxtail than soup and could have fed twenty people! The following day saw another five hours driving across Hungary before crossing the border into Romania and within half an hour we had arrived at an apartment owned by the Mother Therese Foundation in a small village called Cetariu. Wilfried, a charming Dutchman who helps run the three Mother Therese shops in Cetariu and Oradea, lives in the apartment which he shared with us for the three nights we were in Cetariu. He had also arranged the tour schedule and accompanied us on the Tour which was extremely helpful as he speaks some Romanian!
The first afternoon, we didn't have a show, so we were taken by Wilfried to see the Gypsy village in nearby S'a'lard.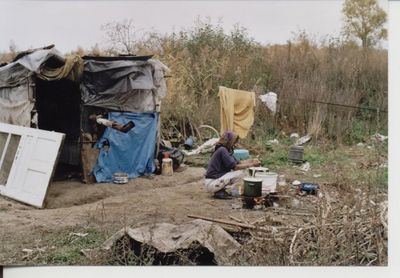 A Gypsy woman cooking on her outside fire in front of her home-made "home" in the Gypsy village near S'a'lard
There were literally hundreds of adults and children living in absolutely appalling conditions in home-made "abodes". Some of mud, others of scrap timber or what can be found laying around in rubbish tips. Many with tarpaulin or plastic sheeting roofs held down with old tyres or bits of iron. Typically, they are less than ten foot square, one room, obviously no electricity, heating, water or sanitation. They huddle together at night, including the dogs (to help keep the rats out) and cook their meals on outside bonfires. Many of the children have bare feet, even in winter. The Mother Therese Foundation has been active in the area for some time now, supplying clothes and other needy equipment, and providing wells for clean drinking water. We viewed eleven very small (one up, one down) two-room concrete houses that have just been built (but not yet completed) by the Foundation for the gypsy families most in need.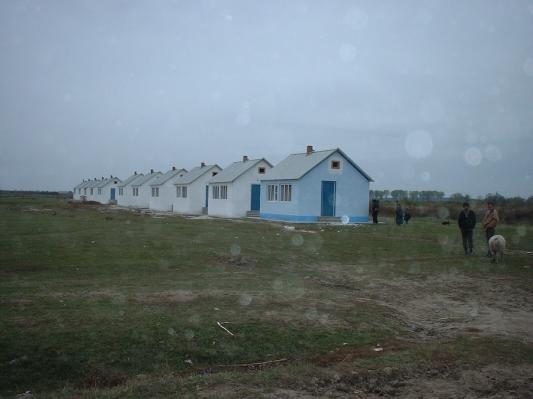 The first eleven two-roomed houses built by the Mother Therese Foundation,
sponsored by companies and individuals
They are equipped with two beds, a table and chairs and a wood stove in the one room downstairs, whilst the room in the roof space, accessed by a small wooden stairway through the ceiling hatch, will contain two further beds. They are extremely small but are no doubt luxurious to what the Gypsy's currently live in. There is neither electricity or water, but planned future projects include a communal bath house where clean drinking water will also be available. Each tiny two-roomed house costs 4,000 Euro (approximately £3,000) to build, and these first eleven are being sponsored by Friends of the Mother Therese Foundation who purchase them in their own name, but hand them over to the Foundation who in turn will choose which needy families they will be given to. Despite the squalor in which they live, the Gypsy children are typical of children everywhere: noisy, nosey and boisterous!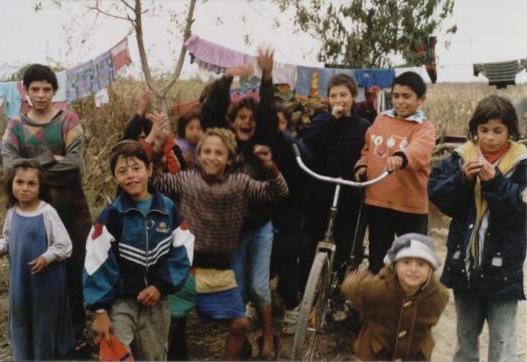 The Gypsy Children in the Gypsy Camp, S'a'lard
And they couldn't wait to be entertained as they remembered the previous time the World Wide Smiles Mission had performed a show in the village – but they would need to wait for another four days to see us in our arranged itinerary.
The next day, we drove for another five hours over the mountain ranges to Deva, a quite large town, where we stayed at a Catholic Monastery. The Monastery is run by a Monk, and here the difference between the Gypsy children of Cetariu and the Monastery children couldn't have been more apparent: here street children and orphans are taken in, accommodated, fed three times a day, clothed and given an education. The Monk has found monies and sponsorship from various countries, and the children are well looked after, disciplined, happy and extremely polite. In some instances, children are being brought up in "family" groups in apartments owned by the same Monastery, with a foster "Mum" who typically has children of her own who also attend the Monastery school and eat with everybody else.
We were given one of the young girl's dormitories (the girls were moved elsewhere for the two nights we were ensconced) which had it's own bath/shower/toilet room, and we ate with the children in the school Food Hall. There were so many children that the meals are on a "shift" basis, and the kitchens seemed to be on the go all day and late into the evenings. The meals were basic but adequate.
Our first show was that very afternoon in one of the large schoolrooms, so we barely had two hours to unload, put up the set and get into motley and slap. We started each show making a grand entrance singing along with our ukeleles and also finished the show with a song and 'ukes. In between, with Ben as M.C./Ringmaster, we performed our separate acts, and performed together for several spots. We had planned our programmes so that we could perform a choice of one, one and a half or two hour shows depending on the age of the children and the time available. The children loved us!
That evening, after having packed away the set as the schoolroom was needed, and having nothing better to do (there being no T.V. or radio) we walked into the town and celebrated in a nearby bar where there was a resident singer backed by a duo playing sax and keyboards. Pretty soon, Conk and I were entertaining the tables with magic and balloons and we were promptly invited back by the management the following evening!
The following morning, we had two one-hour shows in the School Food Hall for pre-school children and they were lovely to entertain – all big dark eyes and huge smiles. I wanted to pack them all up in my suitcase and bring them home! One thing we became quickly aware of was how the children wanted to show their affection and thanks by hugging and kissing you, even the little boys (there apparently is none of the "political correctness" currently so prevalent in the U.K.) And it made such a wonderful change to be able to reciprocate without having the worry of whether someone would misinterpret your actions by giving a simple hug back.
We soon had our own "clown groupies" who followed us everywhere and copied everything we did, funny walks, trips and facial expressions! They were all absolutely delightful.
On the third day, we bade farewell to Deva and drove for a further 35 km to Or'a'stie, to another Catholic Church orphanage. Here were about eighty children of various ages with whom we had a simple soup and bread lunch. Because there was insufficient room anywhere to perform the show, we were actually allowed to perform in the Church itself, which must be a first! It was a big, dark old church and when we were waiting behind the stage set for the children to come in, we didn't hear them arrive as they crept in quiet as mice (obviously no noise was allowed in the Church)! We soon changed that and had them screaming and yelling with laughter within the opening few minutes! After this very successful show, we packed up everything and drove the six hours back past Deva and over the mountains to the apartment in Cetariu where we stayed for the next two nights.
The following day was a bit exhausting as we had three shows and some further travelling to do! Up bright and early, we left for Biharia which was just an hour's drive away where we did two shows. Then packing up the van and still in motley and slap, we travelled to S'a'lard Village Hall, where we set up again and performed to about three hundred Gypsy children. It is an old hall with a stage and limited lighting. After we had made our entrance and I had just commenced my first routine, the electricity failed and we were plunged into blackness! Conk and I entertained on the Ukeleles with songs for about ten minutes in the black-out before the Hall Janitor opened all the shutters on the windows down one side of the hall, letting in the sunshine and we could continue the show as normal! This was a full two-hour show and was well-received. As I was performing my final spot before our Finale, the electricity and lights came back on and we were able to finish using our planned finale which included the use of a bubble machine – something we would have had to cut out had the electricity not returned on time!
The last day dawned, and we packed everything into the van as we would not be returning to the apartment in Cetariu after our final show that afternoon, but start out on the long journey back to Holland. We travelled to a school in Tileagd who had mainly children with learning difficulties and there we performed in a small School Gym. The odd thing was that the children stood for the whole hour and a half show, they didn't seem to want to sit down – most odd, none of us had come across that before.
That performance completed, we packed up and cleaned up and then set off for the Hungary border, and arrived at a snow-laden Austria/Hungary border some five hours later where we stayed at the same hotel and ate at the same restaurant!
The drive through Austria the next day was lovely as it was all white with snow, but amazingly, once we got to Germany, all the snow disappeared as if by magic! The long drive to Holland was only marred by the van blowing a water hose on the autobahn, which necessitated a call out to their equivalent of the RAC which meant an hour's wait out in a bitterly cold wind by the side of the motorway, but we finally arrived back at Ben and Masjolie's welcoming house at about 9.30 p.m. in the evening.
The whole experience was very fulfilling and I enjoyed the experience immensely. Eight shows to over 1500 needy children in ten days. I will never forget the squalor that the Gypsy folk live in, or the faces of the Gypsy children and the wonderful kids at Deva Monastery.
Masjolie, Ben and Conk were wonderful companions and fellow professional entertainers and we had many giggles and laughs during the tour – I can't remember a cross word between any of us even under the most trying of conditions. My thanks to them and Wilfried who gave valiant assistance wherever we went. I hope we have the opportunity to return.
Finally I pay tribute to those wonderful volunteers at the Mother Therese Foundation who are doing so much every day to give hope and comfort to people everywhere just like the Romanian Gypsies at S'a'lard, and to the World Wide Smiles Mission for doing so much for so many for so little budget! If anyone would like to donate to the World Wide Smiles Mission which is a registered Foundation, so that future tours can continue, please contact us via our e-mail info@WorldWideSmiles.biz (or use our Contact page).
Please see the photos on our Romania Photos 2003 page.
---
Tours to Romania: October 2002
by Conk
In October 2002, we returned to the same area in Oradea and Deva, Romania where we performed for orphanages and for the first time visited a Gypsy encampment near S'a'lard where Mother Therese's Foundation was in the process of starting a project to build tiny two-roomed houses for needy gypsies.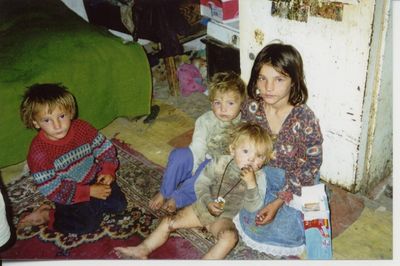 A young Romanian girl with her brothers and sister in a typical Romanian home
Please see the photos on our Romania Photos 2002 page.
---
Tours To Romania: June 2000
by Masjolie
In June 2000 we were able to travel to Romania with the help of a group from the Mother Therese Charity. Here we gave a splendid show to the combined children from seven villages from the Borough of Cetariu. All children who attended the performance were also given a small gift.
Children from an orphanage also enjoyed a performance whilst children in a hospital received special attention and a cuddly toy gift.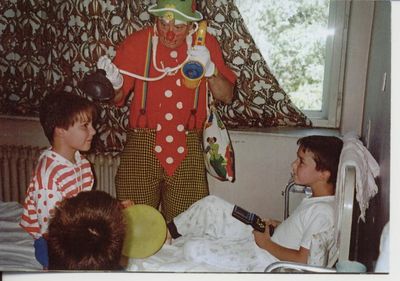 Conk entertains in hospital
If anyone would like to donate to the World Wide Smiles Mission which is a registered Foundation, so that future tours can continue, please contact us via our e-mail info@WorldWideSmiles.biz (or use our Contact page).
Please see the photos on our Romania Photos 2000 page.
Save
Save