World Wide Smiles Tour: Smiles to Kosovo in November, 2004
after a very nasty and bitter civil war
---
Smiles to Kosovo Tour Report
by Clown Bluey
In 2004, we decided to take a smile to the children of Kosovo. Kosovo is a self-proclaimed independent state in Serbia Montenegro (part of former Yugoslavia) and is presently under UN administration since the Civil War ended in 1999. Serbia do not recognise "Kosovo" and tensions were still rife, particularly near the border areas. The British Home Office's advice at the time was to "stay clear of the area".
However, contact had initially been made to Clown Bluey from the Centre for Children's Theatre Development in Prishtina, the "Capital" of Kosovo. This is a small theatre group who are struggling to take theatre to children in Kosovo and get children generally involved in theatre. They were delighted to accept World Wide Smiles offer to bring a small mini clown show/tour to the area and readily agreed to organise an itinerary and accommodation for us. This was helped by the fact that World Wide Smiles were underwriting the costs of travel, food and accommodation, the Children's Theatre Development having very little budget themselves. It took a year to put all the details of the tour in place and even at the time we left for the tour, there were still many details that still had to be finalised such as where we were to be accommodated and details of the actual itinerary. However, we accepted their explanation that no plans were ever made so far in advance in Kosovo and that everything would be in place by the time we arrived. We accepted their word and, in the main, they kept to their promises apart from a couple of minor hiccups.
The team for this year's tour was the same as last year's to Romania: Conk and Clown Bluey from the U.K. and Clown Masjolie from Holland made up the clown performers, ably assisted and supported by Ben, Masjolie's husband who is our able Ringmaster/M.C.
World Wide Smiles is a registered Foundation that relies on sponsorship from various sources including companies and private persons in order to fulfil its objects to take smiles to children and adults wherever smiles are needed. All the clown artistes donate their time and performances free of charge as their "donation in kind". The funds donated to World Wide Smiles are used to help with travel costs, food and basic accommodation whilst on tour. This year, the group were very thankful to Eurotunnel Plc who sponsored Clown Bluey's car in addition to himself and Conk plus all their clown gear to France via the Channel Tunnel and also to the Car Centre Andriessen (andriessen.info) in Terborg, Holland which so generously sponsored a Mercedes Sprint Van for the tour.
Clown Bluey's Diary Notes
21.10.04
I had performed at the Eurotunnel Terminal at Cheriton, Folkestone, many times over the last three years, but I had never actually travelled through the Channel Tunnel. Conk had travelled to my place from Birmingham the evening before we were due to leave and we left at 6.00 a.m. in the morning to ensure we missed the peak-time traffic and arrived at the Channel Tunnel Terminal on time. Hence we arrived a good hour and a half before we were due to leave at our booked time of 11.00 a.m., to be promptly put on an earlier train. I must say we were both extremely impressed with everything to do with our Tunnel experience. We only just had 25 minutes to pop into the Terminal shopping area to say hello to some of the people I had got to know during my working gigs, before we were called back to the car to drive onto the "closed" car rail carriages, and 35 minutes later we were on the motorway driving away from Calais in France. An uneventful four and a half hours drive through France, Belgium and Holland saw us arrive at 4.00 p.m. at Masjolie and Ben's house in Ulft, a small village in Holland just 15 minutes from the German border.
This was excellent timing, because we had a newspaper interview with a reporter from the "Gelderse Post", one of the Dutch newspapers at 5.00 p.m. followed by a photo-shoot the next morning.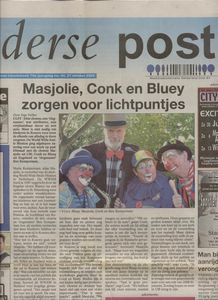 The"Gelderse Post" Article 27.10.2004
22.10.04
Ben had managed to find a generous Car Centre (Car Centre Andriessen in Terborg – andriessen.info) that was willing to sponsor us with a Mercedes Sprint Van for the tour. He and I collected the van, signing all the required paperwork including the Green Card Insurance. Insurance was to be a future headache on the tour as it would not be recognised in Kosovo and we knew we would need to buy additional Kosovo insurance at their border: but more of that later.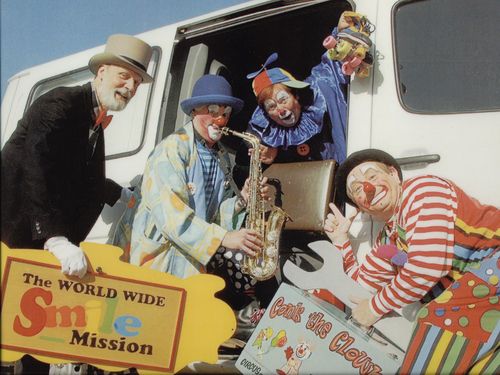 The WWS Team ready to leave in the Mercedes Sprint Van kindly and generously supplied by the Car Centre Andriessen in Terborg (andriessen.info)
We arrived back in Ulft in time for another press interview, this time in motley and slap (costume and make-up), and two photo sessions for two different newspapers, the "Gelderse Post" and the "Ijsselstreek Vizier" (On our arrival back from the tour, we found one paper had a large colour photo on the front page supported with a good factual article, whilst the other had a small colour photo on the front page referring to two large articles inside accompanied by a large black and white photograph – so the effort to get into motley and slap was well worth the effort to publicise World Wide Smiles and the tour).
Whilst we were still in motley, we decided to visit a school for children with learning difficulties where Masjolie works part-time and were well-received by all the children and teachers. We couldn't stay long, as we had lots to do including packing all our gear and stage-set into the van. We also had to buy some petrol and a petrol can for our new petrol generator and lights which Conk and I had purchased in the U.K. and donated to World Wide Smiles.
23.10.04
We set off on the 2,400 km journey at 6.15 a.m. The aim was to drive for at least half that distance before we stopped for the night. As we had no idea whether we would have any hold-ups at borders or on the road, we had not bothered to book any accommodation in advance: we intended to take pot-luck on the night. Conk, Ben and myself took turns at driving, each doing two hours before changing, sometimes stopping for a coffee break or something to eat. Masjolie at this stage still had the remains of a nasty flu-type bug, and spent a lot of the journey sleeping – she was certainly not well enough to drive. We drove all day through Germany, Austria and Slovenia (arrived at the Slovenian border at 7.00 p.m.) and arrived at the Croatian border at 8.00 p.m. After 14 hours driving and 1130 km distance covered, we decided to call it a day and found a reasonable small motel in Krapina which had two rooms available. It also boasted an all-night bar and restaurant, so we had a good-value meal before retiring: we had at least the same mileage to do the next day, if not more and we expected the roads would get progressively worse near our destination!
24.10.04
After a simple continental breakfast, we left Krapina at 7.15 a.m. and after an uneventful drive, crossed the Croatia border at 11.20 a.m. We were stamped into Serbia-Montenegro at 11.50 a.m. – rate of exchange was excellent: 1 Euro = 75 local Dina. This is where we had to make a crucial decision. Do we enter Kosovo from the North (where we were at this time) which was much more direct and a shorter route, but which might or probably would give us a problem if there were no insurance brokers at the "border" (a border which does not officially exist as Serbia do not recognise "Kosovo") or play safe and drive south through Serbia to Macedonia, which did recognise Kosovo and had an official border? We chose to play safe and headed south through Serbia, because our van was sponsored and did not belong to World Wide Smiles. If we could not obtain adequate insurance at the border, we could arrange to leave it in a safe place in Skopje in Macedonia and our Kosovo contacts would have to arrange alternative transport for us for Kosovo. We were duly stamped out of Serbia-Montenegro and stamped into Macedonia at 6.30 p.m. After passing through Skopje, we arrived at the Kosovo border at 7.30 p.m. where we had to wait for our contact, Jeton Neziraj, Director of the Centre for Children's Theatre Development to come to the border to meet us and help with the insurance problem. He arrived after an hour's wait and after taking 3rd party insurance at a very inflated price (80 Euro for one week! – Kosovo is still rated by insurance companies as a "War Zone" even though hostilities ceased in 1999) we eventually made our way into Kosovo at 8.45 p.m.
We stopped for an evening meal and were struck by how cheap everything is by our standards. They use the Euro in Kosovo. Average wage is 150 Euro a month. We found we could have a two-course meal for a total of 13-14 Euro for six of us (approximately £2.00 per head per meal!) We were still 16 km from Prishtina and it was a pitch-black drive to the city, often hitting huge pot holes and sunken unused railway lines en-route – thank heavens for the Merc's excellent solid build!
Jeton put us in a student flat in the centre of the city: all four of us shared a sofa and two armchairs that pulled out to make a double and two single beds in what was the lounge of the flat. The room was ours for the duration of the tour and we shared the bathroom with the four students who occupied the flat's two bedrooms. The flat generally was a little decrepit by our standards, but probably fairly respectable by local standards. There were many electricity cuts and all water was routinely turned off for the whole city every night after about 7.00 p.m., so we stocked up on bottled water.
Part of the agreement for the Van for the extra insurance was for it to be parked in a "guarded" compound/park each evening which entailed the van being driven about 15 minutes further into the city to be parked each night, with Jeton bringing Ben back to the flat in his car afterwards. I won't say much about the general state of the driving over there – let's just be kind and say it was chaotic! We had arrived at the flat at 11.55 p.m. and it was gone 1.00 a.m. before Ben and I returned from parking the van that first night: we had gone to three so-called guarded parks before finding one with a guard! We paid 3 Euros a night but we weren't convinced all our stage stuff would be safe ……… However, the insurance company had insisted that provided we had a "receipt" from the guard at the guarded car park, we would be "covered". We all hoped we would never have to claim ……… You can bet your boots that we all slept pretty soundly from the long journey – and with our first show the next day!
25.10.04
We soon got into a routine: up nice and early, all take turns in the bathroom, then up to a nice little coffee shop on the main road. Jeton would meet us there, then after a coffee he would take Ben to collect the Van and on his return, we were off to the appointed location for our show. We were extremely lucky with the weather. It was beautiful and sunny for the whole week, temperatures during the day 21/22 degrees C. The first three days for our shows, we were accompanied by Vizar, a Professor from the University who would be our guide and interpreter. We were also accompanied by Lindy from Sweden who was something to do with the Swedish Delegation of the UN, but she was also an excellent photographer and was keen to have the opportunity to take photos of our clowns, shows and children.
Our first show was in Gjakove, a two-hour drive away near the Albania border at a Christian Centre. We left at 10.00 a.m. for the 2.00 p.m. show. It was interesting looking at the country-side and spotting war-damaged buildings. The thing that struck us all that wherever we looked, there were new buildings being built or had already been erected. Very little war-damaged buildings were to be seen. The railway was not in use, but we noticed various rail bridges being repaired or totally rebuilt, so we assumed that rail travel would soon follow……
The Christian Centre was quite modern. It had been built on the site of a dump where they had found starving orphans living and sleeping. It was to these children, plus the children of a nearby gypsy village, that we gave our first show, outside on a stony gravel courtyard. It was a very hot, but successful show – the children and adults loved it. One side of the courtyard was bounded by a small road and after a while it was filled with curious passers-by who stopped and stayed to watch the show, including horse and donkey carts laden down with straw and hay. It was an hour and half long show. Initially, we were told that the audience would consist of 75 children, but this appeared to grow considerably as the show went on!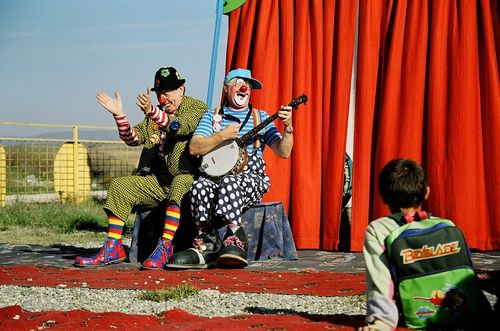 Conk & Bluey performing at Gjakove
After cleaning up and re-packing the Van, we returned to Prishtina at 6.15 p.m. Needless to say we enjoyed ourselves at our first evening meal and it wasn't long before Conk and I were entertaining the restaurant with balloons, magic and general clowning around – something that happened on most nights!
26.10.04
Today we travelled at 10.10 a.m. to Klina – about a 1-1/2 hour hour drive from Prishtina. This was like a Youth Centre with about 75 children ranging from the very young up to teenagers and we performed inside for the first time. The show was very well received – even the teenagers became very involved. Many wanted autographed photographs afterwards. We returned to Prishtina at 6.00 p.m. and after cleaning up went out for a well-earned dinner at a Turkish restaurant. The owner has two restaurants and employs five dwarfs (who are apparently not very accepted in that part of the world). The one we met was delighted to have a drink with us. His boss invited us to his other restaurant on the following Friday. We then spent the evening in a French Bar, where we kept everyone amused for a couple of hours.
27.10.04
Another early start as we have a show at 11.00 a.m. at Kazonik, near the Kosovo border with Macedonia. In the event, we start at 11.10 a.m. This was a Kindergarten / Orphanage with about 50 children. The show went very well, again outside, it seems the whole village was there by the time we finished the 1 ½ hour show. We could hardly move by the stage area! The only downside for me was that someone damaged my alto sax whilst we were inside getting changed and made-up and I didn't find out until I made my third entrance where we do the "you can't play here" gag. Could only get three notes – so I certainly couldn't play there!!! Unfortunately, there were no sax repairers in Kosovo, so I have to rely on my banjo and musical saw for the remainder of the tour.
We had lunch on the way back at a restaurant which was new. Next to it lay the ruins of the original restaurant: the owner had been killed in the shelling/bombing and it had been left as a memorial to him. Again, we remarked on the cheap food: beautiful soup and fresh bread 1 ½ Euro (about £1.20), a beer 1 Euro. We arrived back in Prishtina at 3.30 p.m. and had a deserved break. After a shower, we took a look around the central shopping area. Loads of shops and "Huts" selling everything. We found a huge undercover market. Bought some fruit (Bananas 50 cents for a Kilo – packs of well-known cigarettes 200 for 10 Euro!). We are delighted to find we have made the two Kosovo newspapers (black and white photo taken from the first show in one) with good write-ups.
We meet up with Jeton and several others of the theatre group for a meal, but what with my sax damage and hearing from Jenny that Scamp (our Westie dog) has had to go in for a biopsy rather puts me down and I have lost my appetite tonight.
28.10.04
Today, we perform for the first time in Prishtina, at a combined Orphanage, Shelter for abused women and Day Centre for children. It is run by an Austrian charity group. The show was due to start at 12.30 p.m. but due to our new translator being late, it actually starts at 1.10 p.m. Our new translator is writer Doruntina Basha (Dorrie to us) who is with us for the next two days. We find the atmosphere at the centre quite strange – we can't put a finger on it. The show itself, outside, goes well, about 50 children and adults. We eventually put the strange atmosphere down to perhaps some of the women being traumatised and not receptive to strange men (e.g. me, Ben and Conk). A Kosovo T.V. Channel crew were also in attendance and filmed excerpts, plus interviewed Masjolie and myself after the show. We decided to have a quiet night tonight and the four of us went to a local bar and had a quiet drink – also watched some Italian football that happened to be on. Tomorrow, we have another early start as Masjolie and I are appearing on TV21 in the studio at 8.30 a.m. and we have a show following that at 10.30 a.m.
29.10.04
The live interview at the TV21 studio goes well. TV21 ask permission from us to come to the show at 10.30 a.m. to film us making-up and film excerpts from the show.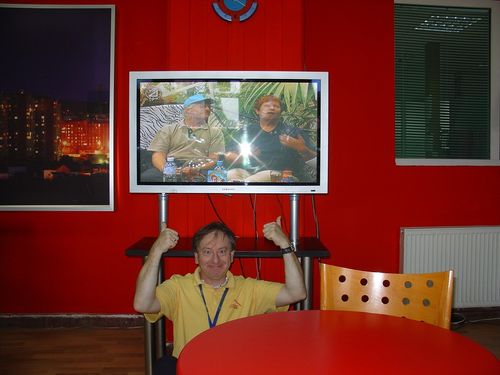 Conk is in the VIP TV21 Lounge whilst Bluey & Masjolie are interviewed in the studio.
The orphanage is another run by an Austrian concern and it is an excellent modern facility. We perform indoors, and what with the T.V. delays, we start the show at 11.00 and must finish by 12.00 p.m., so for the first and only time, we do a shortened one hour show. These were mainly pre-schoolers, 3-4 year old who seemed to thoroughly enjoy the show. Another T.V. crew from another station arrived as we were packing up, so we agreed for them to come to workshops and lectures we are giving in the afternoon at the University.
We went to the Turkish Restaurant owner's other restaurant at lunchtime, and did some impromptu entertaining. The owner was delighted and gave us all a free lunch!
At 4.00 p.m. we were at the Prishtina University Drama Room, where we gave a make-up demonstration and some circus skills workshops including balloons and spinning plates, Dorrie translating for us. We finished by doing two example sketches: the tooth entree performed by myself and Conk whilst Masjolie performed her Barber Act. At 5.15 p.m. I gave a live telephone interview to BBC Radio Two Counties which was a great note to finish the afternoon on.
As tonight is our last night before starting out on the long drive home, we went to the French bar/restaurant we had enjoyed earlier in the week and had a great meal with most of the Children's Theatre organisers. Needless to say, many toasts made, and balloons circulated before we made our way back to the flat.
30.10.04
Jeton, as promised, arrived to take Ben to collect the Van at 6.15 a.m. and we left Prishtina at 6.45 a.m. We had asked around and nobody thought we would have any problems if we took the shortest route, travelled north and exited Kosovo into Serbia. Unfortunately, this advice turned out to be wrong – we were turned back at the border!
We were turned back at the Serbian North Border!
The Serbs just hate Kosovo. They said our papers were out of order and as we had entered Kosovo via Macedonia, we must leave the same way. Hence we had to turn around and drive all the way back down south (after the farce of re-entering Kosovo's border and having to unlock and show them the contents of the van, even though we had only just been waved through to the Serbian border!), through Prishtina, over the mountain range to the Kosovo/Macedonia border. To add salt to the wound, Police had closed off the main route through Skopje due to road works. It was a nightmare trying to get back on the autobahn. There were lorries, including artic lorries and buses actually driving on the pavement and the wrong-way up a dual carriageway without a policeman or any diversion signs in sight to sort out the mess. We got ourselves pretty lost for a while, because even though we seemed to be headed in the general right direction on a minor "B" road, all the villages we came across were so small, they weren't on our map. However, we finally got back on to the autobahn (although Conk seemed determined to take us all the way to Greece for a short while….). All in all, we estimated that we lost three hours drive-time before we were able to get back up north to the Macedonia – Serbia border and resume our return journey proper.
After 15 hours driving, at 9.45 p.m., we had to concede defeat and stop in a motel in Croatia, still some 100 miles short of our original hotel at Krapina. But we had a good meal and had a good laugh about it! The fact clocks went back an hour that night helped as well – an extra hour in bed!
31.10.04
We left the Motel at 8.00 a.m. after a good breakfast. It started raining during the night and it rained heavily all day as we drove through Croatia, Slovenia, and Austria where we stopped for lunch. Incidentally, on this route we passed through 28 tunnels, some of which are tolls. Most of the motorways were tolls – a cost to our charity of nearly 200 Euros overall. We finally arrived in Holland at 10.00 p.m. after 2,393 km. Total mileage both ways was 4,787 km. Conk and I would also need to add 430 miles each way to that for our journey to and from England!
01.11.04
We spent the morning unloading and cleaning the inside and outside the Mercedes Sprint Van – excellent van, stood up to the journey very well and very comfortable for an extremely long journey. Gave a nice bouquet of balloon flowers to the Car Centre Andriessen lady owner and entertained her children for an hour in the afternoon as a way of showing our appreciation for their kind and generous sponsorship. Tomorrow we rest, then we go home ourselves!
03.11.04
Conk and I left at 08.30 a.m. Thick mist all through Holland, but no problem in arriving at Eurotunnel almost two hours early. Left on the 1.30 p.m. train instead of the 3.00 p.m. as booked which was great as we missed all the peak traffic around the M25 and were home in Southampton by 4.30 p.m. Conk left at 6.30 p.m. after a quick meal with us. He had a 3 hour drive to Birmingham.
Conclusion
Overall, we felt that the children of Kosovo, generally, were better off than those we found in Romania. However, they have gone through a terrible civil war and the smiles and good memories we left with them, and the smiles they returned to us made the long journey worth every penny!
Was it worth the journey? Definitely.
Would we do it again? Absolutely.
You only have to look at the photographs of the children's faces to see the joy and happiness. The World Wide Smiles Tour accomplished its objective once again, on a shoe-string budget.
We would like to place on record our grateful thanks to Arben, Dori, Jeton and Visar of the Center of Children's Theatre Development for all their help, generosity and goodwill, and Lindy for some wonderful photographs.
Please see the photos on our Kosovo 2004 Photos page.