World Wide Smiles were delighted to accept an invitation by SEED (Society for Education & Environmental Development) to perform for their Homes for Boys and Girls in and around Kolkata, West Bengal, India.
WORLD WIDE SMILES Kolkata, West Bengal, India Project 2009
by Ben Kemperman (Holland)
14-02-2009 – 05.15 hrs. Masjolie and Ben leave Ulft, Holland, to meet Bluey and Conk at London Gatwick for the long flight to Kolkata (Calcutta) via Dubai.
15-02-2009 – about seven o'clock in the evening and already dark as we land in Kolkata. At home it was not yet 10C degrees, (in the air -50C!) and here in Kolkata more than 30C degrees!
A true temperature shock and also, during the coming days, big culture shocks.
A city of 15 million people and the nearby West Bengal rural areas will be where we perform our shows.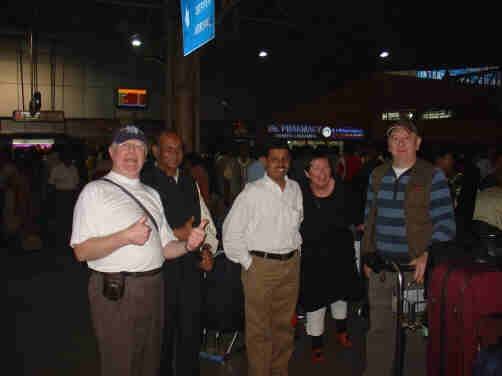 SEED, ('Society for Education and Environmental Development') meet us at the airport. They are an organisation dedicated to providing a safe environment, care, accommodation and education to slave-labour children, street children and railway children (runaways). They made contact and invited us through our web-site and organised a very good and full programme.
Our accommodation and base will be in one of Seed's hospitable Boys Homes; the Disha home for boys aged 5-15, who are taken by SEED out of their miserable street life and can live here in a safe place. Food, clothing, school education and bed with mosquito.net: but most importantly – they can be a child again.
A Tata jeep with excellent driver takes us every day to where we have to be for our performances.
It was quite stressful at times crossing the daily crazy traffic of pedestrians, bikes, heavy-loaded transport lorries, bike-rickshaws, motorbikes, dented old buses, lorries, taxis and here and there a cow and a lot of dogs!
Every spot of the road is occupied and full of noise – no one takes any notice of traffic laws and drive head-on, on the wrong side of the road, horns continually blaring.
The 8 working days were filled with 18 shows. A cautious estimation brought us to a total audience of 20 thousand children and adults!
Most of the time, the performances were at schools in poor areas; we made a community shows on a street corner next to a dirty dump with rats; a small street square where an estimated 4,000 people turned out, hanging onto roofs and nearby building walls and windows; a new boys home, a girls home and a huge stage at a city-festival where afterwards we were presented with an award from the city – these were the locations where we performed. Air weight restrictions meant that we improvised our stage area using a purple curtain with long blue rope as a divider between the clowns and audience; sound via a tiny amplifier and a mini CD player (most of the time run on batteries), and a paperboard with the words: "The World Wide Smiles Show" – voilà: our theatre! Yes, we have to be and are very flexible.
All the school children are dressed in uniform (supplied by the State); looks nice and good, but we know and have seen in the mean time how and the squalor of where they have to live.
On a very, very small stage in a little, tiny square between small, narrow alleys surrounded by a huge, surging crowd, we had to stop the show to prevent the little ones in the front being flattened!
Like pop stars under escort, 'minders' wielding sticks, escorted us back to a local social community house.
Most of the school rooms are too small for the big crowds of children. So if possible we perform outside in the schoolyard, yes in the sun, or under any available shade.
We saw classrooms without any furniture. Schools in the middle of rural nowhere, without any apparent items to teach, broken doors, non-existent windows – but always we are treated with hospitality of tea and biscuits, civility, respect, humour and good manners.
We met organisations who try hard to make life more liveable – both community shows we performed were organised by local community groups.
The reactions of the children and the adults were marvellous everywhere, specially as they see that we take children to be part of the acts. Lot of ooohs and aaahs during the balloon-art act from Clown Bluey, deafening laughter during the barber-act of clown Masjolie, and the slapstick antics from Conk the Clown!
Of course, we earned a day of rest. We went sight-seeing Sunday afternoon. We visited both sides of the Ganges. Then up to Howrah Central railway station. The place where the railway lines from the North, West and South of India come together. The place where the runaway children end up – the end of the line. This is where the girls and boys try to survive. Living on the rafters of the station, or under piles of railway sleepers between the rail lines entering into the station, begging for money, for food. We saw some youngsters already glue sniffing. But also this is where SEED have councillors based, who do their utmost to persuade those children out of that miserable existence and into SEED'S programme.
We also travelled along through endless slums. Families living along the roads with almost nothing, children sleeping on rags in the gutters. Also we visit the Mother Theresa Home/Hospital; shelter and loving care of the most needy, mostly old people picked up off the street. Just a Sunday afternoon, but one which made a deep impression on us all.
27-02-2009: back home in our own western world, back with the knowledge that we made a lot of Smiles. Laughter is healthy, laughter doesn't cost anything – only to cause that laughter costs something and is only possible thanks to sponsors and friends of WORLD WIDE SMILES. Many Thanks!
Report From SEED
Objective of World Wide Smiles Tour:
1. To bring smiles for vulnerable children taking shelter in Night Shelter, and SEED Homes. The children are those that have run away from their homes, who 'live' on the rail station platforms and station waste ground, and are found by SEED Volunteers and Railway Police and persuaded to be cared for by the SEED Programme.
2. To make colourful, joyful and interesting place the schools where many children are down-trodden, prone to drop-out and less interested with their academic classes.
3. To bring joy, smiles and RED NOSES to stricken communities where problems due to recession and poverty prevail.
Activities:
Programme in Government Schools and Private Schools
Jasodamoyee Vidyalaya, Deshbandhu Balika Vidyalaya, Tara Sundari Balika Vidyalaya, South Howrah Model Schools were identified for World Wide Smiles Programme. All programmes were attended by teachers of the schools, students, guardians and their well-wishers and sympathisers. Performances by Conk, Bluey and Masjolie were very interesting and joyful. The anchoring made by Ben and translation at some places made by local teachers were making the programme mind blowing.
Programme at HOMES
These homes are for runaway, street and missing children and orphans for both sexes. SEED (Girls & Boys Home), Mother Teresa Missionaries HOME were lucky enough to see the performance of the four Clowns of World Wide Smiles.
Programme at Community
Some programmes within the community were organized by local people at Howrah Utsav, Tikyapara School Ground, Suparbhat at Chunavati-Uluberia, PHARDS at Sunderban Schools premises have attracted the gathering of not less than 5000 in every events of World Wide Smiles. They were awarded at Howrah Utsav for their good performance and purposeful exposure by Clowns.
Their visits at slums like Tikiapara described by Dominique Lapierre in his book 'City of Joy', Howrah Station – gateway of India having 21 platforms and where migration of 400 children occurs daily (as described in the Guardian, Telegraph newspapers in London) and Sundarban where Royal Bengal Tigers are found sometimes will be always remembered in the minds of guests and hosts. Kolkata – a place famous for religious tolerance and magic was seen by the guests at Kalighat Temple.
SEED as a host for World Wide Smiles have learnt the value of smiles from Clowns and wish a long term partnership to bring a difference in the lives of vulnerable and stress-striven children and a community who smiles abundantly at least at the time of performances of these Clowns.
Please see the photos on our Kolkata Photos page.