Reports summarising the trips made by World Wide Smiles to Poland in 2001, 2002 and 2006
---
Smiles to Poland 2006: Report by Conk the Clown
This year's project in Poland started back in July 2006. Conk, that's me, Clown Bluey, Masjolie and Ben were performing a show in Borculo, Holland for Pax Aid for sick Polish children. After the show we were sitting around talking with the Pax Aid organisers and the children's Polish Carer's and they asked what our big annual project was for 2006. At the time we had not made up our mind. So the Polish carer's invited World Wide Smiles to their country. We agreed provided they arranged our accommodation and itinerary tour for us. So that is how this year's major tour came about.
Sunday 15th October 2006
I had to perform a show in Kidderminster, England in the afternoon about one hour from my home and had to leave Birmingham by 5 o'clock – it was one mad rush because I had to meet up with Clown Bluey at Dave Tawney's (Clown Yo-Yo) house where I was to leave my car for the ten day trip. Our Eurotunnel Rail tickets were booked for 22.20 (10.20 p.m.) By the time I dropped my car off and transferred my props and costumes into Bluey's car, we arrived at Eurotunnel with only 10 minutes to spare. After an uneventful 30 minute trip to Calais, France, the time was 23.50 (11.50 p.m.) European time and a long drive of over 4 ½ hours saw us eventually arrive at Masjolie and Ben's home in Ulft, Holland at 04.45 a.m. where we thankfully fell into bed.
Monday 16th October, 2006
After a short lie-in (up at 10.00 a.m.) we started get everything together for the trip. At 4.00 o'clock we picked up our loaned Volkswagen Van from our generous Sponsors, Car Centre Andriessen (Andriessen Bedrijfswagens), Terborg (andriessen.info) to whom we owe a huge vote of thanks. Than it was back to Masjolie's to pack the van with all the stage set and our props and costumes ready for the early start to Poland next day.
Tuesday 17th October, 2006
We departed from Ulft at 6.00 a.m. for the 1150km drive to Jaworzno in Poland. We (Bluey, Ben and myself) took turns driving, changing every two hours. After fourteen hours on the road, we arrived in Jaworzno at 8.00 p.m. and met up with our Polish contacts and friends from Pax Aid – Ewa and Bokdan Tabot, their daughter Sabina and her boyfriend Michal Burdzinski. Michal and Sabina speak good English, whilst Ewa spoke a little and Bokdan only one or two words. We followed their car to the place that was to be our home for the next seven days on the outskirts of Jaworzno. What a sight when we arrived: the Osrodek Wypoczynkowy is a holiday park by the side of a large picturesque lake with wooden Swiss-style chalets situated on one side of the lake's shores. As the Park was closed for the winter, we are to be the only people in residence! The Chalet was very nice with a kitchenette/dining room, bathroom (toilet and sink), a double bed downstairs and three single beds upstairs and our own separate shower block nearby. It also had numerous electric heaters which proved very beneficial in the days to come. It was near a rail network, and we were very aware of constant rail movement, with very long trains moving through the nights.
Wednesday 18th October, 2006
A good night's sleep was had by us all after the long journey from Holland, but we were up fairly early as we had our first show at noon. It was wonderful when we looked out of the bungalow to the lake in the early morning light, it was just like a picture on a Christmas card: there was a very heavy frost and the whole area was covered with sparkling ice. This initially caused a problem as we didn't have an ice scraper with the Van, but credit cards did the trick until Bokdan loaned us his ice scraper. We found that it was generally cold and icy in the early mornings, but we were lucky in that the skies remained blue and clear and the sun warmed up as the day progressed. That first morning we had breakfast in Jaworzno's huge Sports Centre, the HalaWidowiskowo-Sportowa Miejskiego Centrum, a venue where our hosts had arranged for us to have the majority of our meals during our tour in a small café/restaurant. After breakfast we were off to perform our first show at 12.00 p.m. noon at a Care Centre for Handicapped Children (Osrodek Rehabilitacyjno Wychowawczy Dla Dzieci Niepelnosprawnych) in Jaworzno, accompanied by Michal, Ewa and Bokdan.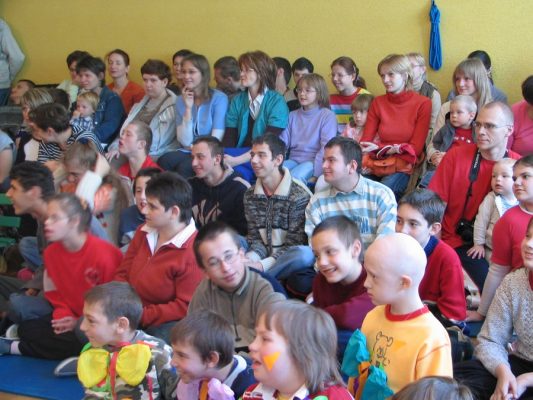 Some of the audience at our first show in the Care Centre
About 40 children attended the show which was in their gym: they could not stop laughing and it was great to get the first show off to a good start. The only downside was our video camera failed but Bokdan offered to use his own and for future shows became our official videographer! After the show we had a look around the Centre and were much impressed with the facilities.
Ewa and Bokdan invited us all back to their apartment where they presented Bluey with a Birthday cake and a bottle of Polish Vodka (it was Bluey's birthday and he was both surprised and grateful for this unexpected kind gesture). We all enjoyed the cake and sweet cookies! They were able to show us a DVD of the Pax Aid Week where we had performed back in Borculo, Holland in July for the sick Polish children – it was the first time we had seen it and was another pleasant surprise. Before we returned to the Sports Centre for our evening meal, we did some shopping, picking up cornflakes, milk, bread etc for our breakfasts which we would eat in our chalet from this point on. Then it was back to the chalet for an early night as we would be leaving early the next day.
Thursday 19th October, 2006
Because Michal, who is a medical student, had to attend college most of the week, Ewa and Bokdan were our guides. They arrived at 7.30a.m. to take us to Katowice for the first show of the day at 10.00 a.m. The drive would take over three quarters of an hour, because of the early morning traffic. We had early starts most days, because schools start at 8.00 a..m. and finish at 2.00 p.m. (some kindergartens at 12.00 p.m. noon). The Szkola Podstawowa Nr.7 is a Primary School. It had a great stage in the meeting Hall area, but the School Director insisted on putting us in a large classroom and only allowing two classes to see the show. By the time the show started the word had got out that the clowns were performing and we did the show to over 80 children.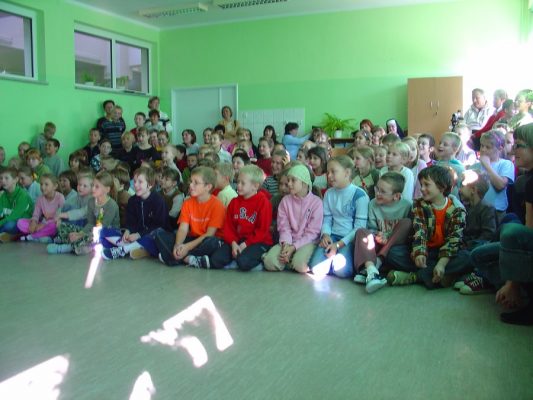 At the start, only two classes were allowed to watch, but by the end over 80 children squeezed in.
We would have loved to have performed a show to all the school on the stage area but it was not to be. That particular School Director was the only negative person we came across during the whole tour.
After lunch in the sports centre back in Jaworzno, we had an impromptu sight-seeing tour around the town on foot and enjoyed the little market. We were all quickly aware of the constant smell of smoke in the air: most people it seems still burn coal for heating, something we no longer experience in our own "smoke-free zone" countries. Jaworzno is famous because it's where Pope John Paul 11 was born and on Saturday we were to do a show at the local children's hospital named after him. But we were unable to look inside his large modern-looking Church in the town centre as the doors were locked.
Our next show that day was at 5.00 p.m. in another primary school (Szkola Podstawowa Nr.14). As the school had closed for the day at 2.00 p.m., we didn't know how many children would return for the performance. However, Sabina had produced and circulated some excellent Posters for the whole tour and we were pleasantly surprised when well over 200 children and a lot of parents turned up. The performance took place in the school gym and we planned on a two hour show. There was no stage which caused some problems from time to time as more and more children encroached on our performing area, and there seemed to be a constant "coming and going" of children using the toilets which necessitated children walking past our "backstage" area. However, the show seemed to go well and a plus was that Bokdan videoed the two shows for us.
After packing the van and cleaning up, we returned to the sports centre for our evening meal before returning to our chalet for a well-earned sleep.
Friday 20th October, 2006
Today we wake at 6.30 a.m. for breakfast, because we leave by 7.30 a.m., the first show of the day being scheduled for 9.00 a.m. at the Szkola Podstawowa Nr.7 primary school in Jaworzno. The performance took place in a super arena-style round hall with the stage surrounded on three sides by tiers of seats. 450 children watched the show and because of the glass roof the noise was deafening with the children laughing so much.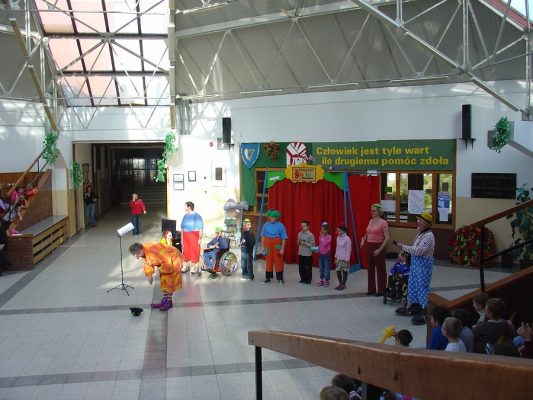 The lovely arena-style hall with high-rise seats on three sides
After the show Michal turns up and helps load the van and we travel to our first Kindergarten. Here, we have lunch with the School Director and some of the teachers and have some lovely soup, salad and a "typical" Polish dish of stuffed vine or cabbage leaves with dumplings in a rich sauce.
As these are "pre-school" children, we adjust our show to one-hour show, because they were so small. It was very successful and to see them laugh so much, even at that young age was great.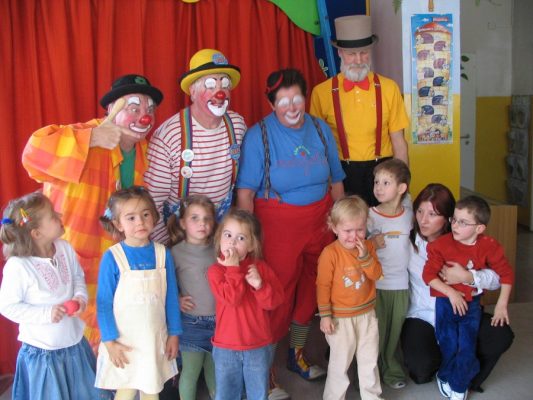 Some of the Kindergarten children have a photo with the WWS clowns
After a short tour of the school with the director, we cleaned up. As we were loading the van the parents were arriving to pick up the children and we were told that the children could not stop talking about the show. It was a lovely feeling know you have made someone happy.
On our departure, we had time to look around a large Polish indoor market before we met up with Ewa and Bokdan's son and girlfriend. We were joined by their daughter Sabina and we all had a meal at the sports centre together, talking about the shows and having fun comparing English and Polish words and sayings. Before long we ended up doing some close-up magic and having an impromptu balloon workshop! On our return to the Chalet, Ewa and Bokdan presented us all with a book about Jaworzno, given as a small token of their appreciation for World Wide Smiles travelling to their town to bring smiles and happiness to the children.
Saturday 21st October, 2006
Up at 6.45a.m. for breakfast and again Ewa and Bokdan came to guide us to our first show. This one was going to be special, because as I mentioned earlier this one was at the Samodzielny Publiczny Szpital Kliniczny Nr.6 Children's Hospital in Jaworzno named in honour of the late Pope John Paul 11 and also it is where Ewa works as a full-time Nurse. About 60 children of mixed ages, some of whom were in wheelchairs, turned up, as did the press. It was a good show, and the children, along with the press, could not stop laughing.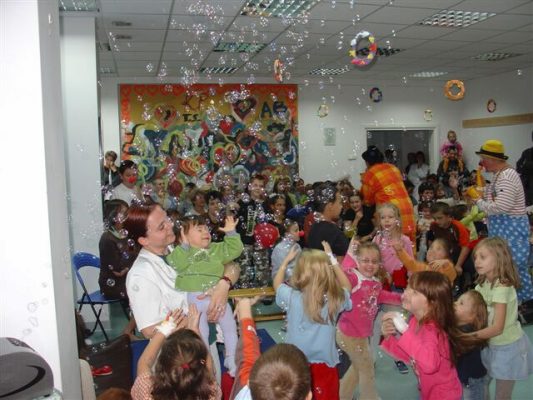 The patients loved the bubbles
After the performance, we were requested to visit some wards to see the children that were too ill to attend the performance. I think we made their day by just being there to see them and we all had fun with bubbles, balloons and magic. The Hospital authorities kindly provided lunch for us before we were left again on our travels, this time still in motley, to our next show at an Orphanage. About 30 children lived in the home as one big family and they seemed to be a very well looked after and happy bunch of children of mixed ages. They seemed to thoroughly enjoy our one hour show and sang us all a song after our Finale. We took the opportunity to have a photograph taken of all the children in front of our Tour Van for our sponsors.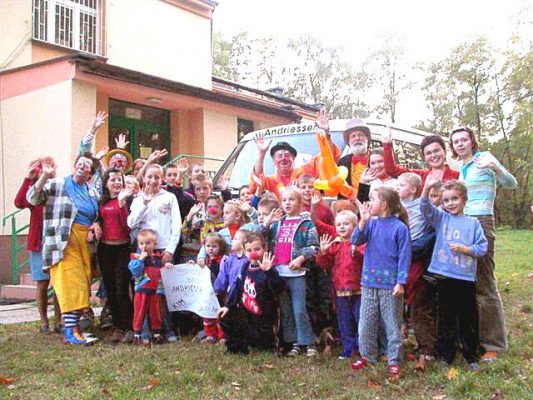 Children of the Orphanage wave their thanks to our Van Sponsors: Andriessen Bedrijfswagens of Terborg, Holland (andriessen.info)
Sunday 22nd October, 2006
This morning at 7.30 a.m. we were treated to a special Polish breakfast by Bokdan who arrived with fish plus fish plus fish. Roll Mops, pickled herring, another pickled fish, plus sliced red peppers and onions. It was the first time I had so much fish at one time and for breakfast too!
Then it was off to do our last show of the tour (the final Monday morning show having been cancelled due to the death of the Director at a Special Needs School). On the way we pick up Michal – he is looking a little heavy-eyed as he had been to a all night party! Sabina (who had been working at her own job all week) would turn up to see the last show at a Children's Hospital in Chorzow.
The performance took place in a second floor Vestibule / Concourse to about 60 children, some of whom had to wear masks and were in wheelchairs. The venue was very warm with bright sun coming through the windows. The children enjoyed the one hour show after which we visited the wards to meet the children too ill to leave the wards. In some rooms we had to wear protective masks, coats and hats to see the children, but again our visit seemed to cheer them immensely and many bubbles and balloons were made.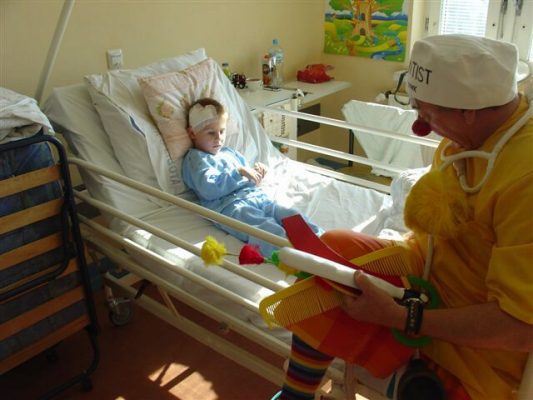 Dr Conk performs magic for a young patient
This hospital also laid on a lovely lunch for us which was much appreciated. After we cleaned up this time, we loaded the van more carefully for the long journey home, as it would not be unloaded again until we returned to Holland.
We could not leave Jaworzno without saying a big thank you to Bokdan and Ewa for all their help. We found out that Bokdan had worked down a mine for over 20 years and he retired in 2000. He had never been to the silver and lead mine museum near Tarnowskie Gory, so we took them to see it and we could not have picked a better location as Bokdan really enjoyed the treat.
Back in Jaworzno, we had time for a last walk around the town before our last meal together in the Sports Centre where Michal and Sabina also turn up to say goodbye.
The team were all-together for the last time. At most of the shows a Teacher or Carer did the translating for us as Ewa and Bokdan could only speak a little English. But they are wonderful hospitable people who made a great job of organising the tour and accommodation for us and we cannot praise them too highly for their support, help, kindness and hospitality. After the meal we said our goodbyes to them all and it was off to the Chalet by the lake for the last time.
Monday 23rd October, 2006
We were up at 8.00 a.m. for our last breakfast and were ready to leave at 9.00 a.m. for the long drive back to Holland. Ewa, Bokdan and their son came to see us off and after final hugs all round, we said our final goodbyes and we finally started on the long trip back to Ulft, Holland at 9.30 a.m. The return journey was 25 km shorter than coming (1122 km) as we returned via Berlin, but unfortunately it was a lot longer time-wise as we were caught behind a bad truck accident for nearly an hour on the autobahn. However, we arrived safely back in Ulft after nearly 15 hours on the road at 12.45 a.m.
The complete return trip mileage was 2269km (not counting Bluey's and my mileage in and from the U.K. and return!).
Tuesday 24th October, 2006
After a well-earned lie-in, we unloaded the van, transferring Bluey's and my gear straight into his car for our trip back home. After cleaning the VW, we returned the Van to our sponsors, Andriessen Bedrijfswagens in Terborg. The Van had performed valiantly and was very comfortable and reliable. We were very pleased with both the van and the generosity of our sponsors, the Andriessen Car Centre (andriessen.info) to whom we gave our heartfelt thanks. They really made our day by announcing that they would sponsor a van for our next tour in 2008, which is superb news. In the evening we had a farewell meal in Germany (the border is only 15 minutes drive from Ulft). World Wide Smiles succeeded once again and we can be pleased and satisfied that we took a smile to nearly 1,000 needy children.
Wednesday 25th October, 2006
Bluey & I had to be up at 6.00 a.m. for the long journey back to England. It should have taken us four and a half hours to return to Eurotunnel in Calais, France, but we lost over an hour because of heavy traffic and a mis-direction on the AA print-out that I was navigating from. However, we arrived at Eurotunnel again just in time for our train at 12.20 p.m.
I picked up my car from Dave Tawney (Clown Yo-Yo), had a cup of tea and said a big thank you for letting me park my car at his home. I also said goodbye to Bluey. I arrived back home in Birmingham at 5.00 p.m. tired but happy in the knowledge that we had performed a great tour in Poland and we are all looking forward to taking more smiles somewhere in the world in 2007.
Please see the photos on our Poland Photos 2006 page.
---
Tour 2002 by Masjolie
From 16th till 20th June we again surprised some 790 children, revisiting the Deaf School and the Hospital in the Walbrzych area with a show and a visit to the Hospital bedsides. Again gifts, which we bought locally, were given to all the children. A performance was also given in the Teatr Zdrojowy, a 300 year old theatre in Szczawno Zdroj to over 300 schoolchildren. In addition, an Old Peoples Home for Ladies, Dom Pomocy Spolecznej, and a Centre for Disabled Children were visited.
Please see the photos on our Poland Photos 2002 page.
---
Tour 2001 by Masjolie
In June 2001 we were able to bring about a tour of three days. This was done with the help of existing contacts in the neighbourhood of Walbrzych. We entertained more than 500 children in a Children's Hospital, an Orphanage, a Special School for the Mentally Handicapped Children, an Institute for Deaf Children and a Children's Home. For every performance we delivered a personal greeting and for every child, refreshments.
Because of the enormous success of this tour, Pax Christi Kinder's Charity invited World Wide Smiles to perform for their sick Polish Children in Holland.
Conk remembers: "We first stayed in an orphanage House. Every morning, Blanco would say goodbye to all the children as they went off to school. On the wall of the house was a lightning conductor. Blanco would hold it with one hand and hold a child's hand with his other hand. The rest of the children would form a line, each holding each other's hand and they would all shake as if receiving a bolt of lightning.
After we left the Home to return to Holland, we were informed that the children continued to do this routine every morning before they left for school!"
We performed for a deaf school – it was the first time Conk had performed for deaf people – and to his surprise, the deaf children returned the compliment by performing for the clowns, all performed to music, something he will never forget.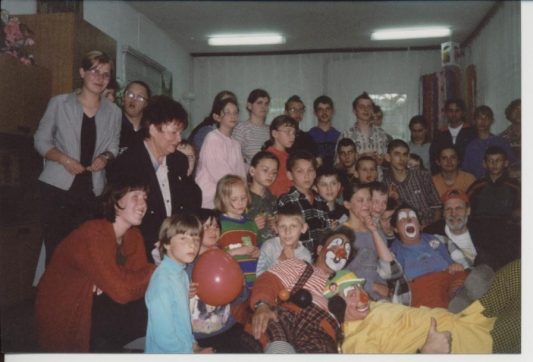 Blanco, Conk & Masjolie with the Polish Children
Please see the photos on our Poland Photos 2001 page.